Nagios is one of the more popular free network monitoring solutions that can be upgraded to a commercial version.  For years this community has depended on 3rd party NetFlow Analysis tools as a best of breed approach to a complete solution. Recently, Nick Scott at Nagios announced Nagios Network Analyzer which provides basic support for NetFlow v5, v7 and v9 however, it lacks support for all of the unique elements that can be exported by Flexible NetFlow and IPFIX.   What does this mean?
Several vendors such as Citrix, nBox, Plixer, SonicWALL and soon Cisco export details such as URLs in their flows.  Others export details on latency, jitter, packet loss, caller ID, etc. and customers will want to report, filter, set thresholds, correlated and more on these unique exports.  Nagios has a lot of catching up to do.  Typically when customers start becoming educated on what is possible with flow data, they want more, expect more and if they don't get it, they look around.  This is why we have stayed laser focused on this industry.  NetFlow, IPFIX and sFlow analysis is all we do.  It is our focus that has led to our success in this field and why we continue to grow.
Take our Cisco Performance Monitoring (Medianet) reporting for example.  It delivers detailed reports on all traffic related to TCP connections (e.g. cloud services) as well as UPD traffic such as voice and video. Troubleshooting issues related to choppy video or voice has never been possible with NetFlow, until now.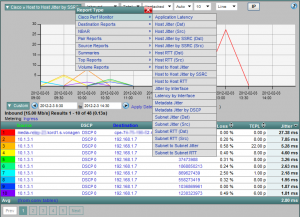 We are also listed on Cisco's site for Performance Routing.
Companies like Dell and Uptime Devices OEM our NetFlow and IPFIX analyzer because they know they are getting the best from a company that isn't getting distracted by other technologies such as SNMP.  Other companies such as Nimsoft and Zenoss recommend Scrutinizer because they are focused on Network monitoring.  Our approach is to make our NetFlow solution open enough to easily integrate with 3rd party NMS platforms.  We do this via the simple use of URLs and basic database queries.
Our integration with Nagios provides the best sFlow, IPFIX and NetFlow support available and the integration is simple to configure and largely maintenance free.  If you are looking for Nagios NetFlow support give us a call and we'll help you get your Nagios solution integrated with Scrutinizer NetFlow Analyzer.