Flow Replicator – UDP Forwarder
The Flow Replicator™ is a UDP forwarder or UDP fanout used to transparently duplicate UDP datagrams to multiple destinations. It simplifies, adds, moves, and changes when an additional SIEM or NetFlow collector is introduced into security log management. Also, some routers, servers, and other systems can only send messages to a single log management system. The Flow Replicator overcomes this shortcoming.
Features of the Flow Replicator™ include: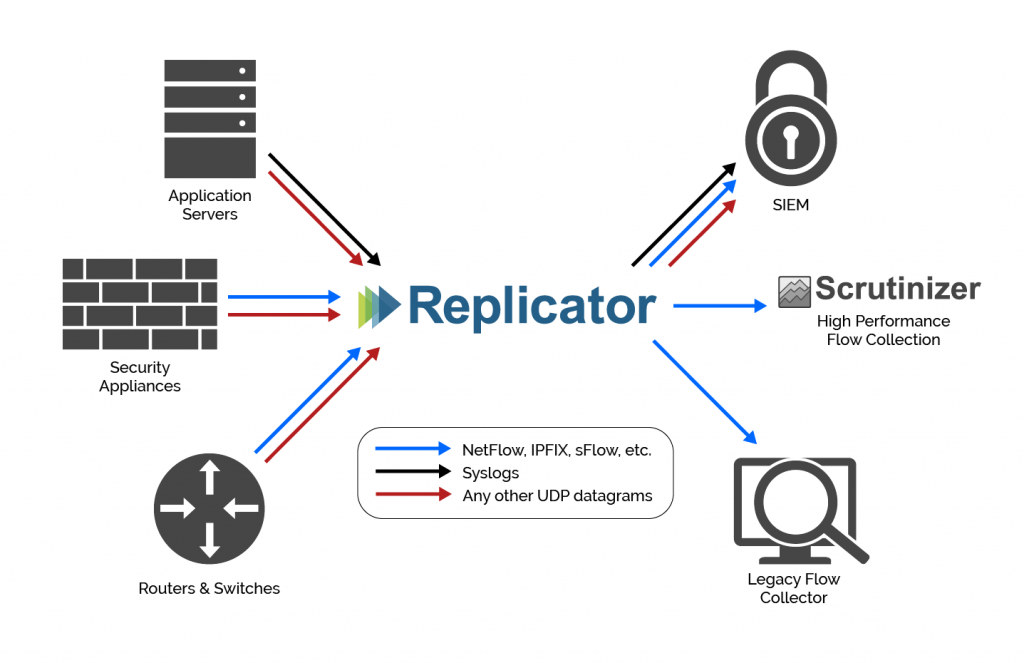 Makes it much harder for hackers to delete logs in an effort to cover their tracks
Ability to configure multiple IP addresses on different interfaces
Receive packets from multiple devices and forward all as a single IP address
Intuitive CLI and web interfaces
RESTful API
Deterministic Packet Forwarding (DSP) only sends packets to management stations that are up and operational
Reduces load for routers and switches as well as lowering data traffic volumes
Enables management station redundancy by sending a single stream to multiple destinations simultaneously
Ability to report replication statistics to an IPFIX-enabled collector
Fault tolerant deployment options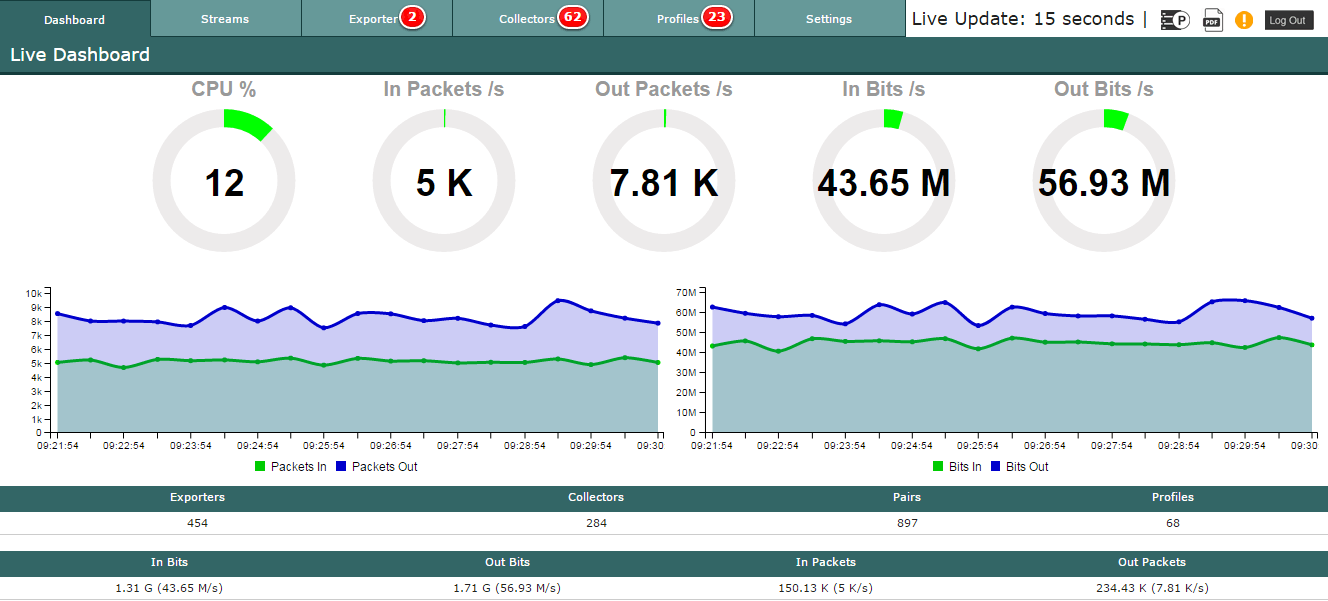 System Specifications (Hardware Replicator)
Category

Description
Network Standard


10/100/1000Base-T Gigabit Ethernet
Replication Rate


Engine capable of 82,000 packets per second (pps) and 82,000 pps output.
Hardware Support Services


3 Years (36 months)
Power Supply


Redundant 350W Power Supplies
Rack Mountable


1U
Management Port


Yes
Hard Drives


RAID 1
Compliance


US CFR Title 47, FCC Part 2, 15
ANSI C63.4 2009
Canadian ICES-3(A)/NMB-3(A), Issue 5
UL 60950-1
UL 60950-1 (Information Technology Equipment - Safety - Part 1: General Requirements)
CSA C22.2 No. 60950-1-07 (Information Technology Equipment - Safety - Part 1: General Requirements)

IEC 60950-1 (ed.2);am1
10Gb options are available.
System Specifications (Virtual Replicator)
Category

Minimum System Specifications
Recommended System Specifications
Hypervisor


VMware, Hyper-V 2012, KVM
OS


Fully self-managed operating system and database included.
RAM


2GB
Disks


20GB
100GB
Processor


1 CPU 1 Core
2 CPU with 2 x 2GHz+ Cores each
Syslog to IPFIX Gateway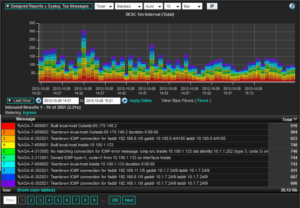 The Replicator Appliance listens for syslogs, extracts the details, and forwards them on inside IPFIX datagrams. Once Scrutinizer® has the messages, it can run reports that include details that stretch across the different devices exporting syslogs. Scrutinizer® log analyzer can correlate the messages and trigger alarms for specified events, which aids in security log analysis.
The Replicator allows companies with regulatory compliance requirements to ensure a backup of all system messages and notifications should an audit become necessary. The Flow Replicator™ and Scrutinizer® log reporting solution together provide:
Detection of a wide range of network threats including APTs, employee misuse, DoS attacks, and even data leakage
Security audit trails of all network traffic and behaviors, enabling rapid reaction to network incidents
Detailed network utilization reports that provide insight into users, applications, and network devices
Scrutinizer® is designed to peer deep into the network, enabling network administrators to easily see where threats originate and how the network is being used, therefore reducing the Mean Time to Know (MTTK) about a potential threat and streamlining IT's Mean Time to Repair (MTTR) the issue.