The latest software update to the Cisco ASA v8.4(5) dramatically changed the way vendors report on NetFlow and NetFlow Security Event Logging (NSEL).   This webcast will explain the changes in the export that bring additional value to your business.  Topics covered include:
The specific changes that v8.4(5) brings to the NetFlow export
How to leverage the NSEL events (e.g. denied flows) in NetFlow reports
Correlating NSEL with the syslogs exported by the ASA to uncover malware
Leveraging contextual information to gain insight on:

URLs visited to specific web sites
Usernames of those involved

The impact of ACL changes on flow volumes
Network Address Translation reports
Determining what ACLs are denying flows and why
Best practices for detecting bots and advanced persistent threats
Guide lines on proper cleanup of infected machines
Application Performance Monitoring using NBAR
How all this will impact your company's ability to:

Scale the flow collection due to the richer details and more verbose flow volumes
Perform audits and verify that they meet the needs of regulatory compliance (HIPPA, PCI)

Additional security suggestions
"By leveraging data from the Cisco ASA companies are able to take a more intelligent approach to security and gain piece of mind that network resources for business applications are not being compromised.  They can also ensure that high priority applications trend with the least amount of latency." Marc Bilodeau – Founder and Vice President, Plixer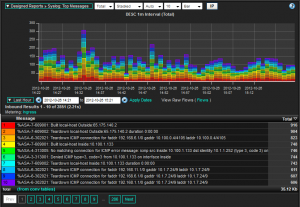 Bandwidth gobblers such as Smartphones, tablets and even Facebook updates or "your move" notifications from Words With Friends®, will find it harder to drain the valuable Internet connections.  Sign up today and find out how to take advantage of these new capabilities.
Date: Dec 13, 2012
Signup for 10AM Eastern Time [Registration Closed]
Signup for 2PM Eastern Time [Registration Closed]

" I am very impressed with the product that Plixer has developed and I'm looking forward to many deployments together. We are partnering with Plixer to come up with a world class user interface. "
Pritam Shah
Cisco Systems