KENNEBUNK, ME — (Marketwired) — 04/11/13 — Plixer International, Inc., a leading provider of threat detection and network traffic monitoring solutions, today announced that CEO and Founder Michael Patterson will join Jameson Blandford, Technical Marketing Manager, Cisco Systems, for several complimentary webcasts regarding Cisco Wireless Application Visibility and Control(AVC) and traffic visibility. The live events are being held on Thursday April 25 at 10am (EDT) and 4pm (EDT), attendees may register at:https://www1.gotomeeting.com/register/991078369. [Registration Closed]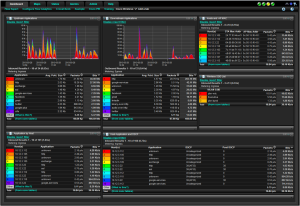 The Cisco AVC solution is a suite of services that provides application-level classification, monitoring, and traffic control to improve application performance. The jointly hosted webcast offers guidelines on the new Cisco wireless NetFlow support and the provisions made in the Plixer NetFlow reporting interface. Additionally, attendees will gain insight on:
The business value of AVC
Application types AVC can recognize and control
The functionality of the new technology for classifying applications and modifying DSCP values
Configuration of these features in the actual graphical user interface
Data reporting via Cisco Prime and Scrutinizer sFlow/NetFlow Analyzer
Available AVC features and how to use them to:

Identify and classify over 1,000 applications by leveraging NBAR
Monitor next generation flow statistics such as response time, latency, jitter, and other application performance metrics
Export NetFlow version 9 or IP information export (IPFIX)
Set different QoS priorities based on application

The new flow metrics being exported in either NetFlow v9 and IPFIX and details on:

Layer 7 applications such as the use of Facebook, Skype, BitTorrent and WebEx
Service Set Identifier (SSID)
Pre and Post Differentiated Services Code Point (DSCP) values
MAC addresses
"The Cisco AVC functionality will play a significant role for Cisco customers when reporting on these new exports," said Scott Brown, Director of Sales at Plixer International. "The benefits of Cisco AVC metrics via NetFlow include layer 7 application details on all wireless devices such as BYOD as well as new reports in Scrutinizer investigating potential threats."
Register for the webcasts offered on:
Thursday April 25, 10AM Eastern Time [Registration Closed]
Thursday April 25, 4PM Eastern Time [Registration Closed]
Download a free trial of Plixer's Scrutinizer or schedule a live demo by calling: (207) 324-8805 or via email at [email protected]. For more, follow Plixer International on their Blog, Twitter, Facebook or join NetFlow DevelopmentsGroup on LinkedIn.
About Plixer International, Inc.
Plixer International, Inc. is a leading NetFlow, IPFIX and sFlow solution provider specializing in network threat detection, historical reporting and capacity base-lining for both physical and virtual environments. They assist customers implementing and troubleshooting: VoIP, Telepresence, Unified Communications, Medianet and other time sensitive applications. Plixer tools have been used to analyze and troubleshoot irregular traffic patterns by IT professionals with some of the largest networks in the world, such as CNN, The Coca-Cola Company, Lockheed Martin, IBM, Regal Cinemas, Raytheon, and Eddie Bauer.