Cisco music sensation Mix Master Mitch has released his latest video titled: Cisco Medianet: Application Performance Monitoring with NetFlow .  This newest video includes a larger cast and BIG stars including Mix Master Mitch (Mitch Wilson), Kristin Korda, Tyler Beck, Evan Van Orsdel, Rick Hustus and Paul Lablond.  It even has a cameo appearance from the Plixer President and CEO – Michael Patterson.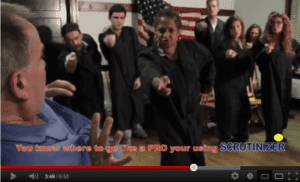 We caught up with Mix Master Mitch who is currently traveling to Cisco customer sites to promote his new video and upcoming album.
Q: Mitch, thank you for taking some time to talk with me today. The new video is fantastic, where did you get the ideas for this?
M: Well, it isn't all me that's for sure.  The Producer – Richard Pelletier and Script Writer – Laurie Notch help me quite a bit with the lyrics and story line.  These videos take 2-3 days to record and then Richard spends even more time on the editing.  It's a lot of work but, that's show biz and I really like being a part of it.
Q: I can see on the NetFlow Knights community page that your list of completed singles is growing.  Have you thought about going on tour?
M: My agent tells me that he is considering a spot for CiscoLive in June of 2013 but, I'm not sure about a performance like that.
Q: What do you mean by "performance like that"?
M: I've been to a couple of CiscoLive shows.  Cisco hires BIG talent for the customer appreciation events.  My music videos are studio productions.  A live audience is something I have to work up to.  So Cisco is going to have to wait till I'm ready.
Q: Wow!  So, what's next?
M: I'm not sure yet.  There are so many opportunities for new videos.  Cisco Wireless controllers now export flow data.  There is also Cisco Performance Routing and Performance Agent that could use videos and Plixer is telling me that security and network threat detection continue to be a big part of their success.  So my writers and I have been trying to figure out how to raise awareness for their ability to report on the Cisco ASA and their whole Internet Threat Center. I guess time will tell.
Q: Thank you for your time today.  Any final words for your fans?
M: Merry Christmas and Happy Hanukkah.  Thank you everyone for making my last video a big success.  I hope you like this one every bit as much.  I really appreciate my fans.  Oh, and sign up for some Advanced NetFlow Training in a city near you.
Chorus: "Scrutinizer won't let that go.  Medianet will catch the streams as the flow. These new reports are great and makin' you wiser. You know where to go like a pro you're using Scrutinizer."