If you are looking to invest in Cisco Prime Assurance Manager because you want to monitor your Cisco MediaNet with NetFlow, don't overlook the 3rd party alternatives.   We worked extensively with Cisco to build the best Flexible NetFlow reporting tool.  In fact, you will find the leader in NetFlow within the Cisco "Medianet 2.2 Deployment Guide".  Our NetFlow Analyzer can be found on page 7,8,10 & 11.
Before you invest, spend some time comparing the reports available in the two solutions:
Our Flexible NetFlow for Medianet Tool: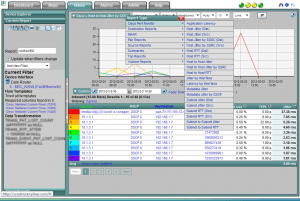 Cisco Prime Assurance Manager

Our company is a Cisco NetFlow partner for Medianet VoIP reporting also known as Medianet Performance Monitoring because our system provides flexible filtering and sorting with Customizable Reports on the latest flow exports (e.g. Jitter , latency and packet loss).
Last year we got involved early with the latest Cisco NetFlow developments and became a recognized vendor for reporting on Cisco Performance Routing (PfR) which is a technology used to constantly test and monitor the quality of a link. If the QoS degrades, lower priority traffic can be dynamically rerouted to make room for priority applications such as voice and video.
If your company is deploying either of these reach out and we'll help you get up and running.