Check out the most advanced Cisco NetFlow capabilities on April 17th when we co-host a webcast with Cisco on Performance Routing (PfR) and network traffic management with Flexible NetFlow.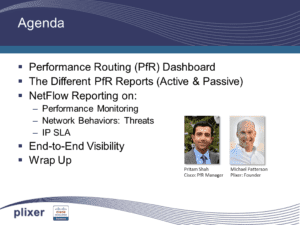 This Flexible NetFlow webcast will cover:
How PfR works and when to implement it
The concept of Master Controlers and Border Routers
The four parts to PfR as well as the NetFlow dashboards and reports that complement the technology.
How PfR relates to Performance Monitoring and NBAR2 Flexible NetFlow exports
End to End, hop-by-hop visibility of flows through the network
Plixer worked directly with Cisco Management and software developers to support this recent Flexible NetFlow technology.  PfR details provide the latest in network traffic reporting and include metrics on IP SLA monitors without the use of SNMP.  This is done through the use of something known as Active and Passive monitors which is covered in the webcast.
"With the explosion of handheld network devices and social networking, the network traffic is constantly increasing. Enterprises are demanding high availability and a performance guarantee for their business-critical applications. Plixer's Flexible Netflow-based reporting on the PfR performance measurements allows our customers insight into the performance of their business critical applications, link loads, and brownouts in the network," said Pritam Shah – Manager Software Development: Medianet Video Monitoring & PfR "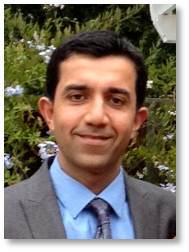 "We are partnering with Plixer to come up with a world class user interface."
Watch the Recorded PfR Reporting Webcast.