I was recently given the opportunity to attend the 2016 EDUCAUSE Annual Conference in Anaheim California as part of the Plixer team.  For those not familiar with this event, EDUCAUSE describes itself as the "premier convening of IT professionals and technology providers across the diverse higher education landscape.  The conference creates networking opportunities for colleges to share ideas regarding strategies, leading change, effective processes, what's working, and sometimes—more importantly—what isn't."  Attendees for this event range from hands-on network and security technology administrators to directors and CIOs.  The security and network teams we spoke with were interested  When speaking with executive leadership, we had robust conversations about improving student retention rates.  This blog will dig into each of these topics and shed light on where Plixer offers unique value.
Higher education is a unique market where, in the name of learning, the network must remain completely open.  IT departments are tasked with the daunting responsibility of providing this open environment while, at the same time, protecting the school's assets.  This difficult situation is an area where Plixer's technology really shines.  Plixer offers an industry-leading security analytics and incident response system called Scrutinizer, and as you might expect, we were incredibly busy!   Over the course of the two days the show floor was open, we had hundreds of conversations, and our six demonstration pods were continuously bustling.  Let's explore the conversation topics we had with the security, network and executive teams.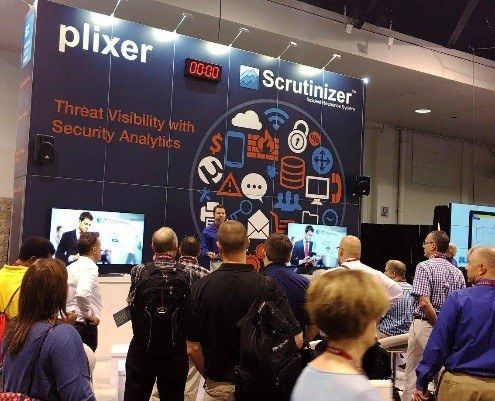 The Security Team
Security teams at universities have an incredibly difficult job.  As mentioned earlier, they must protect the school's high-value assets, in an open environment, where there are a lot of inherent risks.  Schools not only have to contend with a very high volume of bring your own devices (BYOD), but they also have a variety of attached devices like no other.  Students have phones, laptops, tablets, gaming consoles, smart TVs, WiFi connected Blu-Ray, and the list goes on.  Faculty often conducts sensitive research projects where data integrity is paramount. The combination of these factors creates a threat surface that is unmatched in any other vertical market.  Couple this with a technology-savvy student body with lots of free time on their hands and you have a recipe for very high risk.  Security teams are looking for incident response solutions that provide student and faculty accountability for their digital behavior, contextual forensic data, application visibility (including encrypted web traffic bound for the cloud) and rich reporting.
The Network Team
Network teams are looking for visibility into the data traversing the network and its performance.  In an open environment, where access can't be locked down, they need to see what applications are consuming available bandwidth.  Is bandwidth utilization enhancing or disrupting learning?  How much bandwidth are Netflix and YouTube consuming?  How are the internet links performing?  When application performance issues are reported, how quickly can root cause be identified?  In the event of copyright infringement, can an individual student be held accountable?
Executive Leadership
The executives we spoke with are, of course, interested in their teams being able to reduce risk and enable learning through robust and reliable network infrastructure, but we had some very interesting conversations around how Plixer could help retain students.
Through user and application awareness, Scrutinizer monitors and understands the student's digital footprint.  The metadata stored in the database offers insight into a student's engagement with the available learning tools.  For example, it's easy to create reports that look at the ratio of a student's engagement with the learning management system (LMS) as compared to their engagement with Netflix and gaming consoles.  As you can see below, the Scrutinizer dashboard can provide an early warning system for students at risk.  The list of students (identified by username) can be passed along to the established academic and social support team for proactive outreach and support.  Let's take a look at the real-world financial impact student loss can have on an institution.

Student retention has become a serious concern for universities.  The time, effort, energy, and cost that goes into recruiting a freshman class every year is significant.  Each fall, this newly recruited class arrives on campus with excitement for their upcoming collegiate experience.  According to U.S.News  however, as many as 1 in 3 first year students won't make it back for sophomore year.  As the article mentions, there are many factors in this high rate of loss, including family problems, loneliness, lack of money and academic struggles.  If you consider the math behind such numbers, the financial impact is massive.  Let's assume we have a public school with 12,000 students and a yearly tuition of approximately $24K.  Based on an incoming freshman class of 3,000 students and a 1 out of 3 loss rate, that translates into a loss of $24 Million, and there is no mechanism to recruit sophomores actively.  Schools that can deliver early identification of academically at-risk students, stand the best chance of reducing loss and improving graduation rates.
If you would like more information about how Plixer can help you retain more students while delivering value to your school's security and network teams, check out case studies from our satisfied customers.