Attack Investigation and Recovery

For decades, companies have deployed point security products in the name of prevention, but due to the sophistication of attacks and the growing number of threat surfaces, breaches are inevitable. When a breach occurs, you need access to contextual forensic data to support a fast and efficient incident response and recovery. This is where Scrutinizer shines.
line-break
Security Incident Response
Our solution provides a holistic view of the entire enterprise regardless of equipment vendor; by leveraging the latest flow technologies, we can provide deep visibility and pervasive security into every corner of the network. Our software engineers work directly with customers to ensure that our solution monitors unique application performance metrics. The training programs we offer ensure that all our clients are familiar with the forensics available for investigating Internet threats.
line-break
Context is Key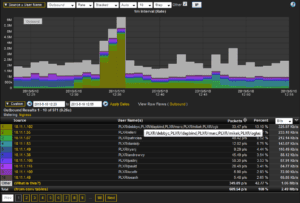 Where did the event take place?
When did the incident first begin?
What is the host's behavior profile?
Which specific user was involved?
Why wasn't this issue reported by my IDS/IPS?
Were multiple devices compromised?
Answers to these questions require exceptional reporting and filtering. Scrutinizer provides the richest possible contextual details using flows and metadata. When additional information is required, Scrutinizer can be integrated with authentication systems such as Cisco ISE, Microsoft Active Directory, Forescout CounterACT, and Extreme Access Control.
line-break
Context Increases Situational Awareness
Better data context improves situational awareness and enables faster and more accurate incident response. Gathering Netflow, IPFIX, and metadata from routers, switches, servers, and probes, and placing it all into a single database for reporting gives you the equivalent of a security surveillance camera monitoring all network traffic.
Armed with rich contextual forensic data, you can quickly answer the questions of where, when, what, which, why, and how.
line-break
Packets as a Complement to Flows
Flow and metadata collection systems and packet analyzers deliver complementary capabilities. Indiscriminately deploying packet analyzers ends up with your team using precious time to sift through tons of irrelevant data. Flows and metadata can be collected at scale from all corners of the network, and provides summarized data so you can quickly identify exactly where to look. Narrow the scope of information with flows and metadata, and then deploy packet analyzers much more precisely for even deeper context.
line-break
Gain Richer Visibility and Context with Comprehensive 3rd-Party Integration
Scrutinizer integrates with more flow-exporting technologies than any other solution on the market to give you the most complete insight into your network traffic.
How?
Templates: Our solution was built to support template-based exports, which means it will accept anything Flexible NetFlow or IPFIX can throw at it.
Massive scalability: Scrutinizer's distributed architecture enables collection rates into the millions of flows per second.
Scrutinizer has a long list of trusted technology alliance partners including Cisco, Citrix, Endace, Extreme Networks, Gigamon, Ixia, Juniper, Palo Alto, and many others.
line-break
Reduced Time-To-Resolution Leads to Faster Incident Response
When network and security incidents occur, every second translates into lost money and damaged reputations. Time-to-resolution is everything. Better forensic data, leading to faster and more efficient incident response, is the goal every company strives to achieve. Scrutinizer fills the void with the information you need when you need it most.

line-break
Scrutinizer for the Security Team: Better Security Analytics, Faster Incident Response
Today's growing threat surfaces coupled with the sophistication of attacks has led us to a point where breaches are now inevitable. From the boardroom to the security operations team, organizations must change their mindset away from prevention toward data forensics in support of fast and accurate incident response.




Scrutinizer for the Network Team: Better Data Context, Faster Time-To-Resolution
When poor user experience is encountered, blame is immediately—and often erroneously—placed on the network team. As a network professional, your first step is often to turn to an SNMP tool, but when all lights are green, what do you do next? What you really need is historical visibility, fast reporting, and accurate forensic data to achieve rapid root cause resolution. You need Scrutinizer.