When considering Ipswitch's WhatsUp Gold Vs. Solarwinds Orion it is important to start off by listing the features that are important to maintaining optimum network performance for your business.  Clearly both are capable of monitoring networks.  Here are the PDF files that we were able to obtain at the time of this post:
Solarwinds and Ipswitch are software developers of frameworks that in some ways compete with solutions like HPOV and CA Unicenter.  Below are some features that can be found in either of the Solarwinds or WhatsUp Gold solutions:
SNMP polling
VoIP details for troubleshooting poor quality
IP SLA Monitoring
A NetFlow, sFlow and [IPFIX collector]
Availability and Response time trends
Notification for custom monitors
Application monitoring (Service or Process)
Syslog and Event log monitoring
Network map
Although the above is an impressive list of functionality, we still need to consider how well the WhatsUp Gold and Orion implementations service the needs of your business.  Both are good solutions for Jack of all Trades network monitoring but, it really comes down to what the business needs to have monitored.  Before an important decision like the purchase of your company's next network traffic monitoring solution, it is important to create a list of specific features needed.  Why invest in syslog reporting solution if your company already has something they like – let alone spent considerable money on.
Below is an example list of specific features needed for the hardware on an example network:
Cisco ASA NSEL and syslog reporting, analysis and notification with ACL integration
Network maps which reflect latency on connections and not just utilization
Notification if a device doesn't respond to a ping
Availability and response time trends on devices polled
Support for over 300 routers, switches and servers all exporting NetFlow or IPFIX
Ability to collect over 100,000 flows per second in a mixed sFlow, NetFlow and IPFIX environment
Cisco AVC NetFlow reporting with NBAR, URL and latency metrics
Network threat detection and network behavior analysis
Ability to correlate IP addresses with Usernames via active directory or radius authentication
Distributed NetFlow collection
Loaded with a list of features that your next network monitoring solution needs to provide, we can narrow in on the key issues in just about any Ipswitch Vs. Solarwinds debate.  The problem for both solutions is that when their feature sets are compared to the list of specific monitoring needs required by the business, neither is an ideal match.  The above list looks more like a call for an enterprise NetFlow monitoring solution.  Although both solutions have 'NetFlow' capabilities, a careful and thorough evaluation will help potential customers decide if either can be considered an enterprise class solution when it comes to flow data collection.
Some pure-play NetFlow and IPFIX reporting solutions today are providing metrics that rival the most sophisticated packet analyzers with details on round trip time, availability and URLs.  When you add the additional value of cyber threat detection and polling features that resemble an NMS, it starts to become clear that NetFlow and more specifically IPFIX are part of a paradigm shift toward the use of flows for network management.  The debate over issues such as WhatsUp Gold vs. Orion is really moot because the focus should really be on the monitoring needs of the business.  Beware the vendors with weak support for flow technologies as they often try to persuade companies from features that expose their weak features sets such as the inability to store large volumes of data.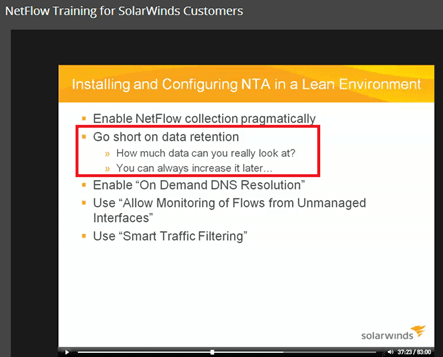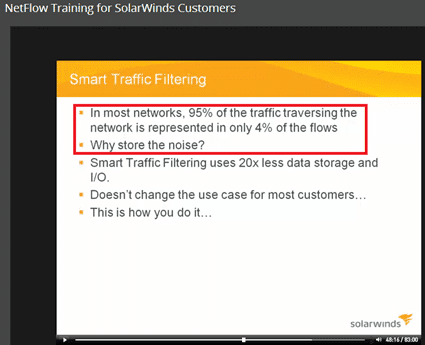 In summary, a scalable IPFIX and NetFlow collector requirement will likely steer the company toward a best of breed solution as many Jack of all trade solutions are as they say "a master at none".
The above logos and trademarks are the property of the respective vendors Solarwinds and Ipswitch.