Last year our CEO asked if I would be interested in starting a Girls Who Code club in our local school system. He had been inspired by the Girls Who Code founder to take action and help close the gender gap in the technology industry. I was excited to jump in and work for a cause that I passionately support. As an educator, I firmly believe that encouraging all my students to share diverse opinions improves our classroom environment. I'm excited to extend this attitude to my technology career. As we encourage diversity in the technology field, we make our teams, our companies, and the industry stronger. Let's take a look at how encouraging diversity can benefit your organization.
Why Diversity?
It's no secret that the technology industry is decidedly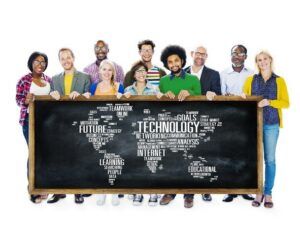 homogeneous. Many educational institutions run campus-wide diversity initiatives to increase awareness. Even companies like Google, Facebook, and Apple are under scrutiny for the lack of diversity in their workforces. Why is it so important to take a much closer look at this problem?
It's human nature to gravitate toward those similar to us. But this may not be the best choice for the long-term success of your team. Harvard Business Review shared in its article, "Why Diverse Teams Are Smarter," that:
Diverse teams focus more on facts
Diverse teams process those facts more carefully
Diverse teams are more innovative
The article goes on to state, "Though you may feel more at ease working with people who share your background, don't be fooled by your comfort. Hiring individuals who do not look, talk, or think like you can allow you to dodge the costly pitfalls of conformity, which discourages innovative thinking."
Many problems that cybersecurity staff deal with every day happen because of human error. Breaches and virus-based attacks can start with an employee who makes a mistake or lacks the proper training. Forbes points out, "Effective management and training of fallible human beings is a cybersecurity domain that calls upon human resources and other vital, non-technical abilities. Employees with a vast array of skills, backgrounds and interests are required to do this right."
Mischel Kwon, CEO of MKACyber, said it best when she shared her view on the importance of diversity in cybersecurity. "When security professionals have a broader lens through which to look at security, we'll be able to provide better answers and support in protecting our systems."
 
Steps You Can Take to Encourage Diversity in Your Cybersecurity Team
Information technology in educational institutions, and more specifically cybersecurity, is a career field that deals with intricate and challenging problems. With a diverse team comprised of many different ideas and experiences, however, you will be more successful defending your assets. In the past, we've shared tips on navigating the unique challenges of education cybersecurity. I would like to propose that another step you can take is to encourage diversity in your hiring practices.
Harvard Business Review offers some hints on how to increase diversity awareness in your hiring practices:
Re-examine your workforce strategy
Improve your engagement and outreach
Build a local cybersecurity ecosystem
Have a robust support program for new hires
Focus on continuous learning and upskilling
Creating a diverse technology workforce is a journey that starts with small steps. We can all do our part by examining our choices and moving forward. The industry as a whole will benefit greatly from a more diverse base of professionals.
Here at Plixer, we strive to give our customers the tools to help make managing their diverse networks easier and more efficient. For more information on diversifying your approach to network monitoring and security, visit us at booth 2307 during EDUCAUSE.