Do you need an Enterasys NetFlow Collector? Well, if you have Enterasys S-Series switches exporting Hi-Fidelity NetFlow, adding advanced NetFlow analysis to your network management tool set increases the value of that investment.
Enterasys S-Series switches support NetFlow v9, allowing Flexible NetFlow reporting of fields such as MAC addresses, and filtering on VLAN IDs, for example.  The following image displays NetFlow monitoring of interfaces from the Enterasys switch:

Take that a step further and you can see MAC Address reporting: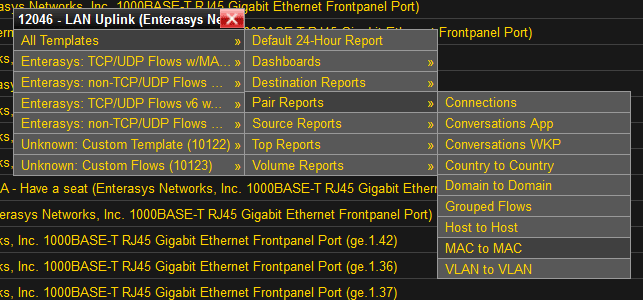 Enterasys has taken advantage of NetFlow v9 and Flexible NetFlow. Other vendors, such as SonicWALL and Palo Alto Networks, are utilizing IPFIX (IP Flow Information EXport) technology.  Okay, so now does that mean you also need an IPFIX Collector?
No, of course not, not if you have chosen an Enterprise NetFlow Collector that supports all flow technologies, including NetFlow v9, Flexible NetFlow, and IPFIX, and is also ready to support whatever the future holds.
What devices do you have on your network?  Do you know if they support NetFlow, or IPFIX exports?  Let us know if you need help determining that, and also to help get NetFlow reporting in place.  Give us a call at 207-324-8805.
Oh, and if you need any suggestions on the best NetFlow analyzer that can also handle high volume NetFlow, let me know, I have some ideas on that subject, too.