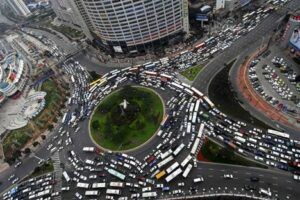 Are you in need of a Cisco NetFlow collector for network traffic analysis? Do you have an overwhelming amount of traffic on your network, but no way to tell who is using all the bandwidth? You've come to the right place! Our NetFlow reporting tool has the most flexible reporting engine available, so you can always find the flows you're looking for.
Once your network traffic starts looking like the traffic jam above, how can you find out what's going on? The answer is with NetFlow monitoring!
The first step is to configure your Cisco routers to export NetFlow, or Flexible NetFlow, to your NetFlow reporting tool. You can find Cisco NetFlow configuration guides on our how to configure NetFlow page. The Cisco NetFlow commands are further detailed on Cisco's guide to configuring NetFlow.
When configuring Cisco NetFlow, there are a few questions you should ask yourself, such as will NetFlow v5 give me all the details I need, or should I configure Flexible NetFlow to export data such as MAC addresses, NBAR, and Cisco's Performance Reporting statistics? And, should I enabled ingress or egress traffic analysis?
Once you have Cisco NetFlow configured and sending flows to our NetFlow reporting tool it will automatically start trending and reporting with no further configuration required! In minutes you'll be considered a NetFlow monitoring guru by identifying all the top conversations, top applications, and top hosts on your network.
If you're not aware, our NetFlow reporting tool comes with a free NetFlow testing tool that can listen and generate Cisco NetFlow.
Don't hesitate to contact us if you have any questions about configuring Cisco NetFlow or using our Cisco NetFlow collector as we're always glad to help!