One year ago, we announced our new vision. That is, we believe that SecOps and NetOps provide value for each other, and that value should be accessible from a single place. In pursuit of that vision, today we are releasing our biggest update ever for Plixer Scrutinizer, as well as two brand-new products.
Everything new in Plixer Scrutinizer
This is the most feature-rich update we've ever released for Plixer Scrutinizer. Below is an overview of everything that's new.
(By the way, if you're a current customer and would like to schedule training on all the new features, please let us know.)
Completely overhauled UI
Plixer Scrutinizer's database includes real-time and historical L2 – L7 data relating to every network conversation. Network and security teams both require access to this centralized data repository, yet they use and interact with the data in very different ways.
NetOps/SecOps collaboration is core to our beliefs, and we wanted the user interface to be easy for both teams to use. So not only is the new UI much easier and more intuitive to navigate, but it's also workflow-based to improve collaboration and efficiency.
(Note: the classic UI will continue to be available; customers can use whichever they prefer.)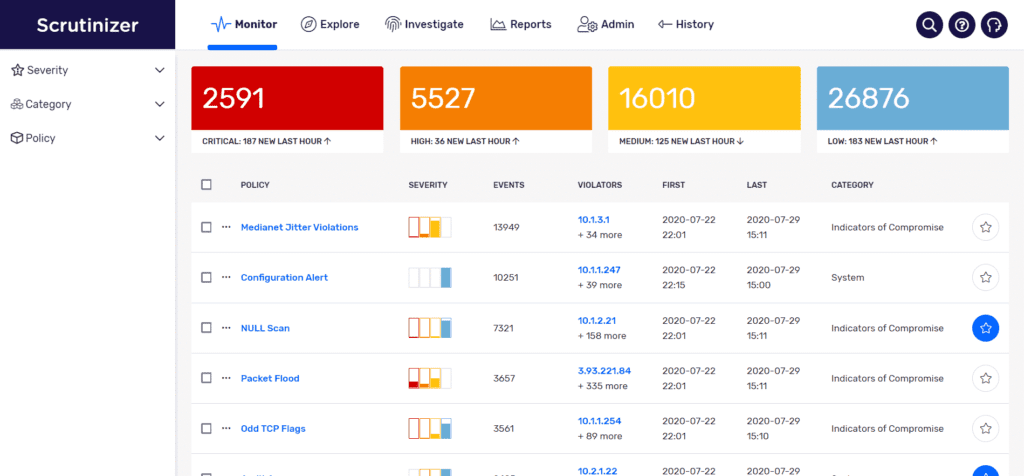 Here are additional features that Plixer Scrutinizer release brings
Zero-downtime content upgrades: enjoy a rapid cadence of content upgrades without the need to upgrade to a new release
Conversation pair indexing (host-to-host flow connection search): quickly and easily find out whether any two given devices have ever communicated
Domain and IP reputation: Plixer Scrutinizer now combines both IP and domain reputation data within the core product
Plixer Beacon integration: unify visibility across network traffic and end devices, including IoT
To evaluate all of the new features, visit the Plixer Scrutinizer product page.
If you're an existing customer and would like help upgrading to the new version, reach out to our support team.
New product: Plixer Security Intelligence
Plixer Security Intelligence is a new product that consumes streamed metadata from Plixer Scrutinizer. It augments resource-strained SecOps teams, dynamically combs through massive volumes of machine-generated data, and automates the detection of advanced persistent threats. Plixer Security Intelligence embeds the very latest in ML technology and applies a crisp use-case driven implementation that delivers real, trustworthy results in milliseconds.
Here are some of the useful new capabilities it brings:
Staff augmentation: bears the load of combing through massive datasets with ML to see patterns that humans can't
Modern, two-phase ML/AI process: delivers higher fidelity and fewer false positives
Security monitoring of TLS/SSL encrypted traffic: differentiate between safe and malicious encrypted traffic without relying on man-in-the-middle decryption
Advanced threat intelligence capabilities: delivers highly scalable, modular, and extensible threat intelligence capabilities
STIX/TAXII support: leverage any third-party IP and domain threat feeds that are STIX/TAXII-compliant
Bi-directional SeviceNow integration: streamline the process of trouble ticket creation
Improved incident scoring with Plixer Beacon integration: even greater precision for alarm severity scores
New product: Plixer Network Intelligence
Plixer Network Intelligence is a new product that harnesses the power of ML to deliver unique features, value propositions, and staff augmentation capabilities for network operations teams.
Here are some of the useful new capabilities it brings:
NetOps automation through real-time ML: dynamically monitor, baseline, and predict network and WAN utilization
Preserve and share investigative workflow data: enhance NetOps/SecOps collaboration with the collections feature
Real-time data streaming for business intelligence: stream network traffic intelligence using Kafka, in real time, into your organization's own proprietary data lake
Bi-directional SeviceNow integration: streamline the process of trouble ticket creation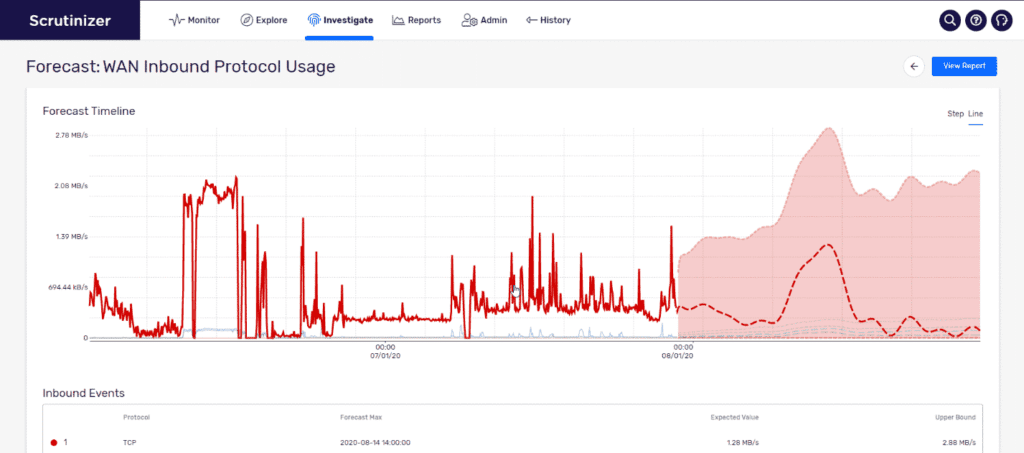 To book a demo of our new products or to learn more, visit the Plixer Security Intelligence product page and the Plixer Network Intelligence product page.