Coming across a new vendor that is exporting NetFlow or IPFIX is always exciting. This time it's my turn. The vendor is Big Switch Networks. Our IPFIX and NetFlow analyzer supports the Big Switch NetFlow exports without any issues. Below is the step-by-step configuration process for getting this setup.
About Big Switch Networks
Big Switch Networks was founded in 2010 with a base founded from the Stanford research team that invented the software-defined network (SDN). The company is comprised of who is considered the founding fathers and pioneers of SDN.
Big Switch Networks' mission is to create a disturbance in the status quo of networking, from the improvements of agility, flexibility, and network intelligence. From conception, networks are being viewed as the barrier to data center transformation, as old network architectures hinder IT organizations with brittle, complex, and cumbersome switch-by-switch management, and proprietary hardware that is increasingly unable to keep up with the pace at which businesses expand today.
Data centers are no longer infrastructure-centric, but rather are fast-growing, multi-geared distributed environments. By harnessing the power of software-defined networking technology, and connecting with industry standard hardware, Big Switch Networks has enabled data center transformation and accelerated business velocity by delivering a responsive, automated, and programmable software-defined networking fabric-based networking solution.
Big Switch Networks NetFlow Configuration
Step 1: From the Big Monitoring fabric controller menu in the web interface, select Big Tap > Managed Services.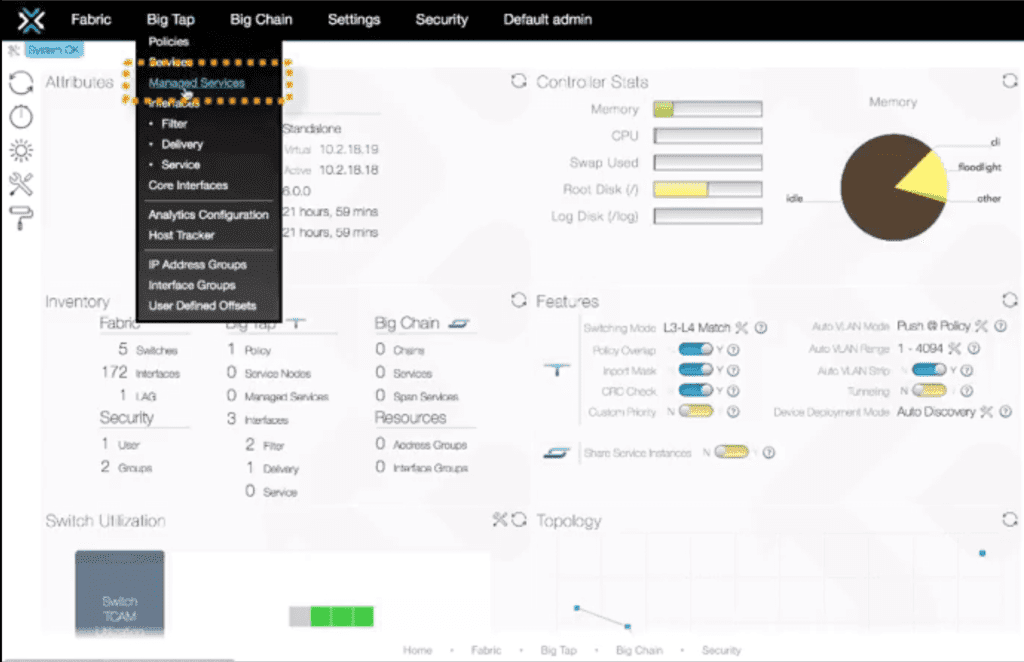 Under Services, click on the + sign to bring up the Create Managed Service window. Fill out the information as shown below: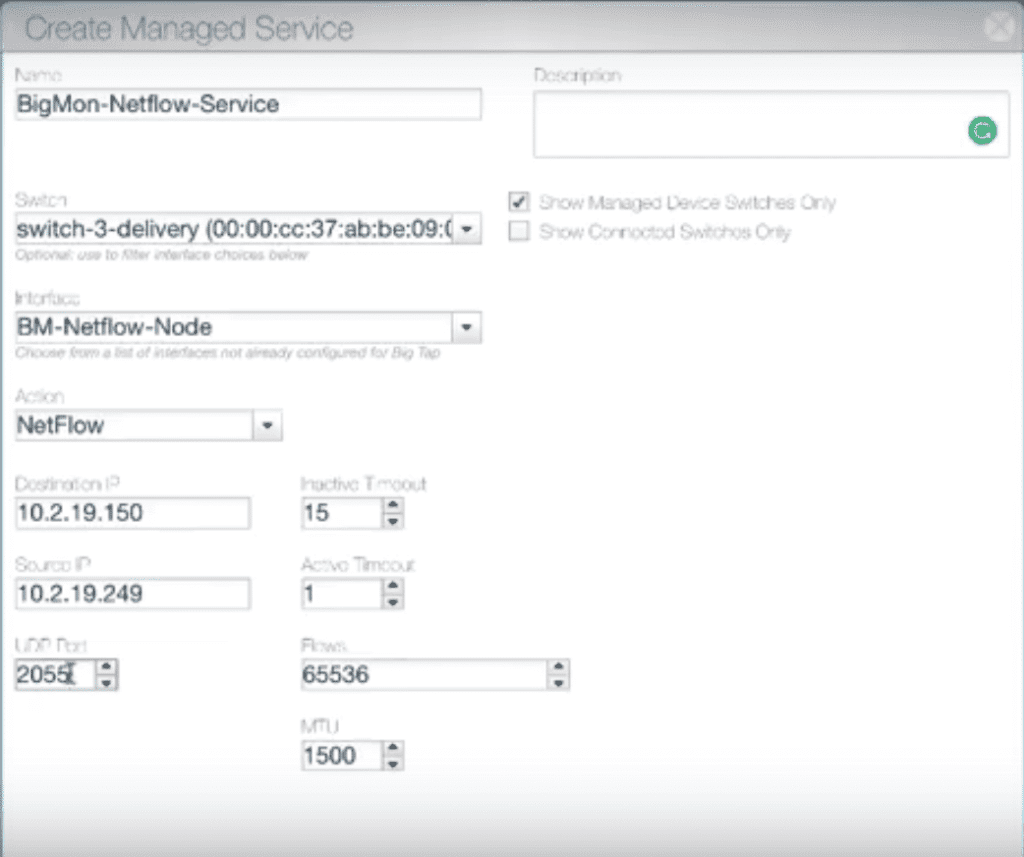 Notice above the name is "BigMon-Netflow-Service."
Step 2: Save the above and then, from the main menu, select Big Tap > Policies. Notice the name below is "BigMon-Netflow-Policy."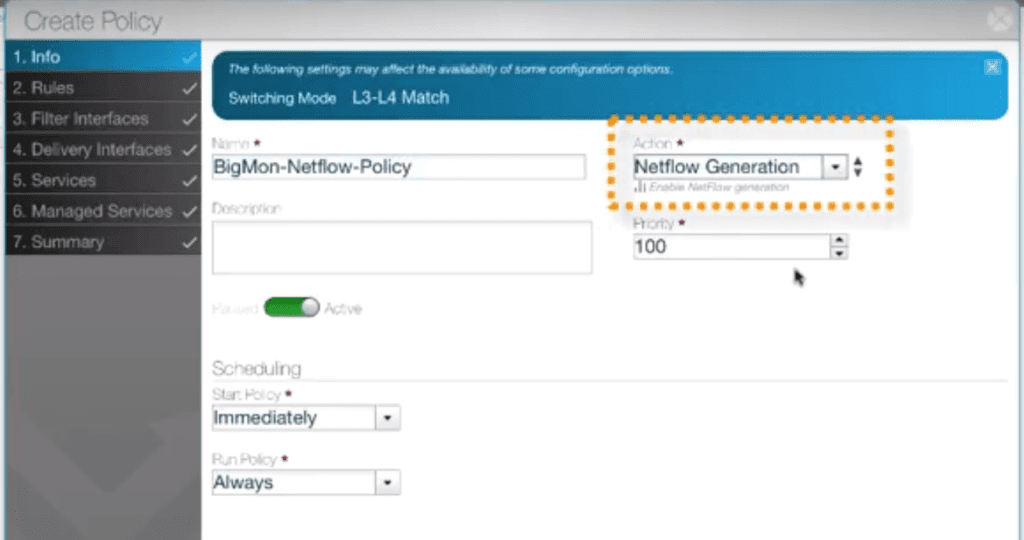 Above, the name needs to be filled in and set the action to "NetFlow Generation."
Step 3: Click on "2. Rules" in the upper left to ensure that the system is matching on all traffic from all filter ports.

Then click on "6. Managed Services" and click the + sign.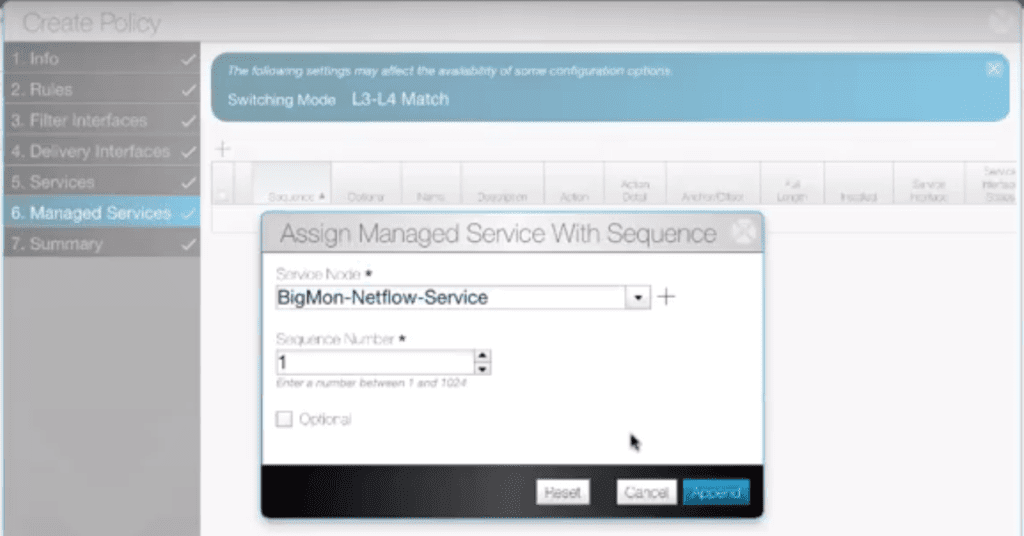 Select the name used in step 1, "Big-NetFlow-Service" and click the "Append" button.

Then save the above policy. In a few minutes, you will notice that the flows start showing up in your NetFlow collector. The Big Switch NetFlow support includes details on layer 7 applications (e.g. Facebook, YahooMsgr, Google_Plus, YouTube, SharePoint, Amazon, Gmail, Twitter, Skype, BitTorrent, etc.) Performance information is also exported. This means you can report on average network round trip time and average server delay, which are measured in milliseconds.
If you would like to report on your Big Networks NetFlow export, contact our team and we'll get you started with an evaluation of our NetFlow analyzer with some complimentary training.