Has your network traffic monitoring tool provided you with a 2500% ROI? Any savvy IT professional knows it's important to understand the return on investment when choosing to adopt a network performance monitoring tool. On March 14th,  Plixer will host a webcast with EMA Research Director, Jim Frey who will discuss how the average companies and institutions investing in Scrutinizer for Network Threat Detection and Traffic Analysis, realize nearly 2500% ROI.
Our complimentary webcast will discuss:
Application-Aware network performance management
Essential structure of common solutions such as Scrutinizer
Calculating ROI on performance monitoring solutions
Scrutinizer case study reports
WAN traffic monitoring requisites
Reports on Flow Volumes, Applications, Top Talkers
Next generation exports: NBAR, Medianets
Threat Detection on Outbound connections
End-to-End / Hop-by-Hop visibility of connections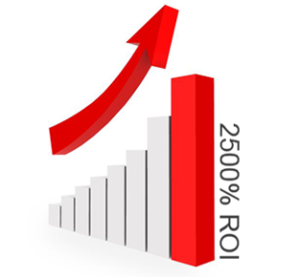 The webcast will be hosted live at 10am (ET) and 4pm (ET) on Thursday, March 14th.
Understanding the Return on Investment is a leading constituent when choosing the best network traffic analysis tool. Sign up today and learn how you can be among the many that have made significant savings in their investment with Scrutinizer.
For more information on this webcast, read EMA's White Paper whose quantitative research is based on Case Studies that have seen outstanding ROI results with Scrutinizer.