Our NetFlow Analyzer for the iPhone takes Network traffic monitoring to a whole new dimension. Aside from receiving  email alerts on network threats, you now have the ability to dive into NetFlow Analysis right on your iPhone. From anywhere, get detailed information on your network traffic, and quickly initiate an informed response to network threats.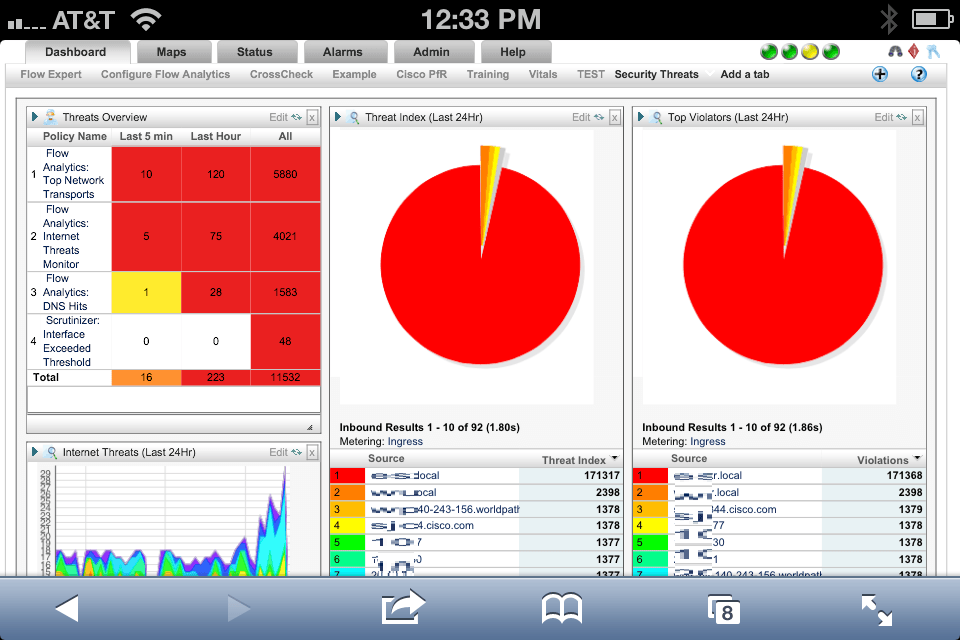 CYBER THREAT DETECTION
By taking a more proactive approach network threat detection, as you can see in the above screen capture, your iPhone network monitoring application observes the behavior of your traffic using various data analysis algorithms, detects suspicious activities and sends out an email alerts on:
Inbound Threshold violations
Internet threats bases on host reputation
DDoS attacks
Nefarious activities
DNS Hits
Breach attempts and several other types of threats.
Therefore, you are not only receiving email alerts on a variety of issues and potential security breaches, but you are also able to further look into reported issues right on your iPhone or iPad. This kind of access to NetFlow data facilitates collaboration, improves how fast network problems are diagnosed and resolved, and ultimately adds some flexibility to network administration.
I was browsing the internet the other day and found a few SNMP based network monitoring iPhone apps; however, I did not find a robust NetFlow analyzer. What makes a NetFlow solution unique, in the context of mobile device applications, is the level of traffic details a network administrator has access to whenever and wherever. With just a few touches on mobile devices, anyone in your networking team, can learn about user activity, top talkers, bandwidth utilization, applications, URLs, detected viruses, types of service, cyber threats and several other pieces of information that is being exporter in IPFIX.
NetFlow truly provides unprecedented visibility in the network; and when it comes to cyber threat detection, you need a NetFlow analyzer with advanced security features. I can say with confidence that our NetFlow solution is one of the best NetFlow based network security solutions on mobile devices. What we discussed in this blog is just a highlight of the available features. I am sure you will discover other features as you experiment with the iPhone or iPad.
Please share your experience and don't hesitate to contact us if you have any questions.