After much deliberation and internal discussions we made a tough decision that stretched way beyond improving data center efficiency.  We have moved our office to downtown Kennebunk, Maine.  The new office provides over a dozen improved benefits some of which include walking distance access to:
The Kennebunk Inn across the street for our visiting guests
A plethora of restaurants in the local area
A drug store
Convenience Stores
Coffee shop
Barbers
A gift store, which comes in very handy for last minute special events
Printer and copy shop
Doctors
Banks
A very short drive to more of the above plus:
Fitness clubs
A Large Grocery store
Etc. etc.
Aside from a 10-15 minute longer commute for a few employees (a shorter commute for some) just about everyone at Plixer is happy with our new office space.
With this event, we learned about moving costs.  I thought I was going to lose my mind. Here is another list:
Security system
New cubicles
Carpenters
Painters
Art work
Signs
Occupancy fees
More chairs and another conference room table
Electricians
Data cables
Two service providers for internet
New phone contracts
More routers and switches
A huge generator in case we lose power
AC for the data room
That last bullet really had me rolling my eyes.  At first, I didn't understand why we couldn't just use our existing hardware.  Then it was pointed out to me that it was time for some much needed upgrades and consolidations.  With the cost of electricity now representing 25 percent to 40 percent of all operational expenditures in data centers, organizations are starting to pay serious attention to energy efficiency.  I was especially keen on learning about how our IT team was going to spend yet somehow save the company money with this move.  I was reassured that the savings would come in 3 areas:
1) Virtualize Servers
We invested in large ESX servers which host many of the past stand alone platforms including email, CRM, DNS, Scrutinizer, testing servers, file server, etc.   It's probably no surprise to many readers.  Look at these industry stats that helped justify this decision:
"Spending on x86 server and desktop virtualization software technologies is forecast to grow at a 23.7% compound annual growth rate through 2014. The market is driven by organizations looking to lower total cost of ownership and increase overall IT effectiveness." Alan Dayley – Gartner
"More than 23 percent of all servers shipped in 2014 will be actively supporting virtual machine technology and more than 70 percent of all server workloads installed on new shipments in 2014 will reside in a virtual machine." IDC
2) Environmental Monitoring
Data center environment monitoring is covered by a complete AKCP security probe configuration complete with temperature monitoring, humidity monitoring, access card security system.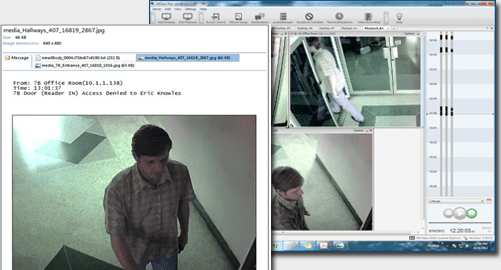 We outfitted the new data center with a security camera system that integrates with the AKCP sensors aforementioned. If the town loses power and the 60KW generator kicks in, I can use my mobile phone to check in on our data center.
3) Monitor Network Traffic
The 3rd was in consolidation of our network monitoring solution. We loaded our Network traffic monitoring solution on a virtual appliance and use it to collect NetFlow, IPFIX, sFlow, syslogs and even event logs.  By leveraging all of the details found in this collection of log data, we can provide the greatest contextual information around just about any security threat we incur.
Ideally, our first electric bill will be uneventful.  Due to over 35% growth in 2012, Plixer has many more employees in the new office.  We have added more switches and routers and some of which cannot be virtualized.  Never the less, we have a brand new data room and look forward to even more growth in 2013. Stay tuned to learn about how we will be improving data center efficiency in our next data center!