I will admit it—I am a helicopter aunt. As soon as my nieces and nephews got Kindles for Christmas, I was buzzing around trying to see what they were downloading. Thankfully, the kids in my life were just downloading Minecraft and apps associated with their favorite cartoons. These apps are usually pretty safe, but not all apps are harmless. Some can even infringe on your children's online privacy.
Which Apps Are Bad Apps?
Not all apps are harmful. In fact, most apps built for children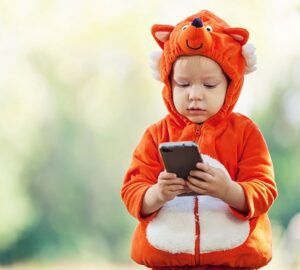 and teens are pretty educational and helpful. Most apps try to make learning fun or encourage creativity through art and coloring. So what makes a bad app bad? The first red flag would be anything that stores your child's information. For example, if we go back and look at our blog Connected Christmas Toys and Your Children's Data Privacy, apps that store your child's voice and personal data are a bit sketchy and interfere with children's online privacy. After some digging, I found that the company who makes the app for the Barbie Dreamhouse makes several other apps as well with a similar function.
We all know that's sketchy and poses several security risks but what else is out there? Since I'm no longer a hip, young teenager I had to do some research on what was currently popular on the app store. I quickly came to the conclusion that anything having to do with communication and meeting new people had lots of downloads. While there is certainly no harm in making friends, cyber criminals are sneaky and can easily gather information even if they're only given a snippet of personal info. During my searching, I came across a blog called,"The Worst Apps for Kids." Admittedly, I rolled my eyes a bit about some of these (mostly because Vine doesn't even exist anymore), but it brought up some good points. Apps such as YikYak, Kik, Whisper, Chat Roulette, and Omegle can be used to gather tidbits of information that are, in turn, used to gather even more information. Thankfully, most apps do not allow children under 13 to download their application (see the Children's Online Privacy Act). As the article also stated, apps like Voxer that turn your phone into a walkie talkie are dangerous because they can be accessed by cyber thieves if location services are on. Aside from the obvious, "don't talk to strangers" mantra, the other thing that stood out to me was what is listed in the privacy policies of each app. While most apps promise not to share your data with third parties, there were some apps that stated they may share your data. Much like how the Barbie Dreamhouse stores your child's voice, these apps store the information your child provides and then share it with third parties. How about no?
So What Can We Do to Protect Children's Online Privacy?
My purpose for writing this blog is not to make people paranoid about their children's online privacy. Obviously you should sit down and talk with your child about how much info you should or should not give to strangers. I would also suggest reading the privacy policy of each app that they want to download. Like I said, most apps are good and say "Security is our priority; we don't share your data," but always double check. Some apps sell data to third parties or use it for their own purposes such as marketing and advertising. If those companies get breached, your child's data (this goes for grown-ups, too) is floating out there.
Be wary of what's being downloaded, read the reviews on the app store, and read the privacy policy.