Are you looking for Catalyst 3750 NetFlow Support?  Unless you own the X model (i.e. Catalyst 3750X) you will need to span a port to an nBox, a SonicWALL in bridge mode or similar.  The Catalyst 3750X NetFlow support is only available if you have invested in the 3KX module.  Without the 3KX, this switch only supports Smart Logging and Telemetry Flexible NetFlow exports.
The Catalyst 3750 does not support NetFlow reporting so spanning a port to a NetFlow probe is one of the best options.   The 3KX module allows admins to export traditional NetFlow as well as Cisco TrustSec and new elements for Cost of Services (CoS).  Make sure you configure the 3KX NetFlow support correctly and include the direction bit.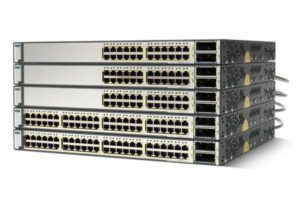 Do you have a Catalyst 3750? Whether you have invested in a 3KX or not, make sure to use it to its full potential by utilizing a NetFlow network analysis program to leverage the important information it exports.