Adtran NetVanta IPFIX support is available on the 2630, 2730, and 2830 security appliances that run Adtran NetVanta 5.8.1.3 or later releases. With your Adtran IPFIX Analyzer, you get visibility into Applications, Intrusions, Virus and Spyware, User internet access, VPN, VOIP, URLs and more. The NetFlow and IPFIX collector supports most industry standard IP flow protocols such as sFlow, jFlow, NetFlow, Flexible Netflow, and is especially designed for Adtran IPFIX reporting. It truly takes your traffic monitoring experience to a new level.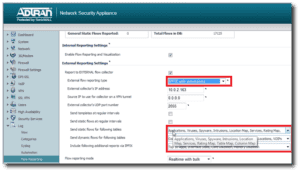 Here is a brief description of what some of the reports consist of.
Applications:
What applications are consuming your bandwidth? Application example: Skype, Citrix, MSN Messenger, Facebook, etc.
Intrusions, virus and Spyware:
Network potential threat detection.
Users:
When "single sign on" is enabled to grant users access to the internet, Adtran NetFlow capable firewalls can export user information to the IPFIX collector allowing reporting on user accounts, user/workstation IP addresses, domain, and user bandwidth consumption.
VPN:
Details on your VPN tunnels and their traffic.
VOIP:
VoIP traffic information including: Jitter, Packet loss, Caller ID, Call utilized bandwidthURLs: Visited web pages.
This blog very briefly highlights some traffic monitoring capabilities that can be added to your arsenal when exporting Adtran NetFlow. In addition to IPFIX reporting, the Adtran traffic analyzer can send you email notifications when inbound thresholds are violated. You can automate IPFIX traffic analysis using built-in algorithms to detect DDOS attacks, bottlenecks, network scans, and several other potential threats to the network, and many other features.
What's your experience with Adran IPFIX?