2019 marks Plixer's 20th year providing network analytics solutions to IT teams all over the world. From the beginning, we have strived (and continue to strive) to listen closely to your needs—the needs of the professionals who keep their organizations safe and who enable their colleagues to do their best work.
This aspect of Plixer hasn't changed. But today we're launching a new identity with a fresh perspective.
Why change?
A logo isn't a brand. Nor is a color palette or a new font.
A brand is a reflection of the company's vision and the relationships their audience forms with them. The visual language is an extension of that. Starting with Battery Ventures' acquisition of Plixer last year, and with bringing on Jeff Lindholm as our new CEO, we've grown a lot in a short time. We've refocused our roadmaps for Scrutinizer, FlowPro, and Replicator, expanded to new and changing markets, and added many highly experienced people to the Plixer team.
We felt that our brand no longer aligned to our vision.
Our vision
We believe that NetOps and SecOps provide value for each other, and that value should be accessible from a single place. When network and security teams access information from a shared platform, something unexpected happens. Hidden patterns emerge and anomalies stand out. Important insights become clear, leading to smarter decisions that make the organization safer and more efficient. Plixer has created a powerful platform for analyzing, evaluating, and visualizing the millions of conversations that cross networks every second. When network and security teams access common data, they start speaking the same language helping the entire organization soar.
Our reinvigorated vision drives us toward a people-centric mindset and away from the fear-mongering that is, unfortunately, so common in our industry. We know that you know the threats and challenges you face, and you're already stressed out beyond belief. Plixer isn't going to add to that—we want to relieve stress and instill confidence. We want you to feel valued.
What's different?
Plixer's new visual identity is simple and direct in its look and feel. We've built it around a unique illustration style that not only helps us stand out in a sea of security & network sameness, but also creates a unique way to communicate the benefits of our offerings. In addition, many of these illustrations—we call them pictograms—tell a human-centered story, because we recognize that humans will always be an important part of the equation.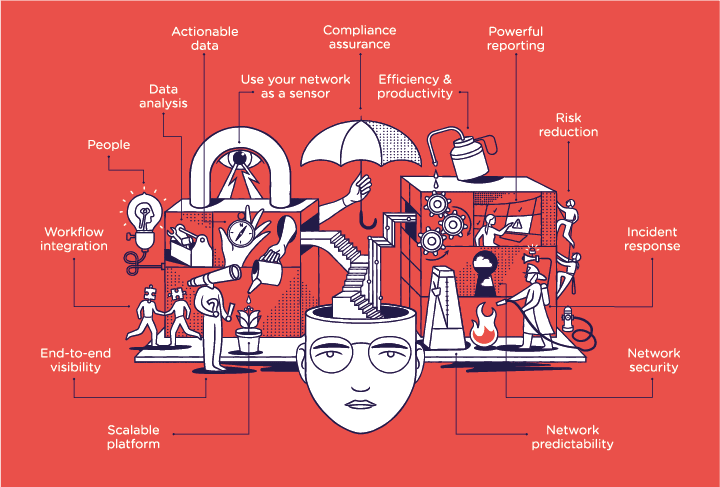 We've also begun an ongoing effort to ensure that everything we write starts with clear, straightforward language. There will be much less technical and business jargon. Instead, we strive to address topics simply, with respect for the reader by not trying too hard.
Starting today, you'll see our new brand identity roll out across our major social media platforms and, of course, our website.
But remember that behind the new look, we're still the same core Plixer: candid, courageous, and reliable.