Greetings fellow sysadmins.
Either you're reading this because you've just installed Lansweeper too, or else you're wondering "What is Lansweeper? Is it the Linux Minesweeper?" Well, the answer is no.
Lansweeper is an endpoint management tool that I've been testing here at Plixer. It has many features, including a built-in helpdesk ticketing system, an inventory system, remote connection management, and in-depth information for each device.
For example, an end user contacted me because their VoIP app, Zoiper, was not working. So I hopped on our network and security intelligence platform, Scrutinizer, and quickly saw that there were no issues with the network's bandwidth capacity and that both the application and server latency metrics looked fine. This allowed me to very quickly rule out network-related problems, and turn to the end station itself. I went to Lansweeper and saw this:

Software version 3.14—the bane of my existence. The VoIP vendor fixed this issue in 3.15. I knew exactly what I had to do and saved myself running up and down the stairs. (Although… I have been skipping the gym lately and it would have been good for my health…)
Using Scrutinizer, I can detect an event, when the event happened, and who it happened to. Scrutinizer can tell me what protocol an application is using or even the application name itself. Once I have identified a threat, I go to Lansweeper to see a little more. From Lansweeper, we can see all the details from the last computer the user was logged into.
For instance, we can monitor the disk usage from here and see if the user's anti-virus is up to date. Lansweeper even lists warranty expiration dates for certain products.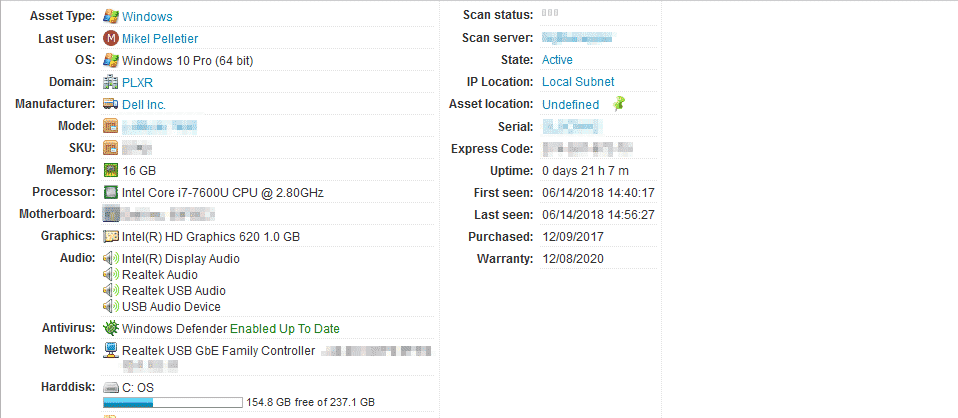 Well, that is neat. But let's say we see some odd traffic in Scrutinizer coming from this same reckless user.
In Lansweeper, we can navigate to the software tab of the system in question and see what's installed. Lansweeper tells you the software version, when it was installed, and who the publisher is. From here we can see that this user has, for example, BigFix installed on his computer. But we don't use BigFix, so that's something I would want uninstalled immediately. With the full version of Lansweeper, we can push or remove software remotely.
Lansweeper is so thorough, it will even tell you how many monitors are plugged into a device and what model and manufacturer they are. This makes inventory management easier.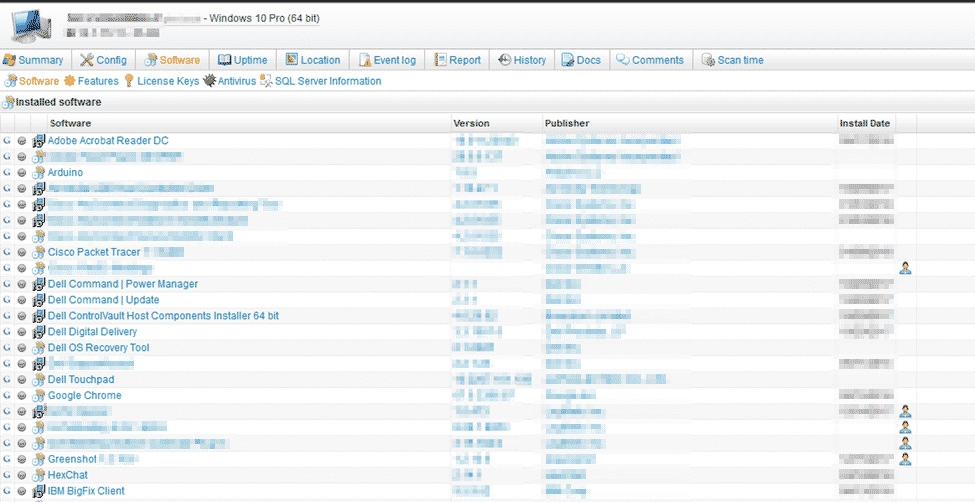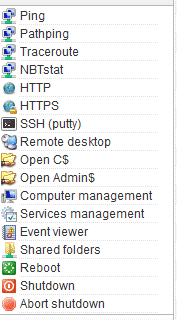 Lansweeper also allows you to remotely connect to a device from the WebUI, which makes updating your Scrutinizer much easier. This product allows for greater control of your network and devices all from one handy WebUI. We can even force reboot the system from here or shut down the system remotely in the event that Scrutinizer detects an intrusion in the network.
There are few products out there that can manage endpoints effectively. Lansweeper does it well and makes navigation easy. It can be paired with your network monitoring solution and antivirus solution to make your job as an admin easier.
My final thought with Lansweeper is that it complements Scrutinizer well. It is easy to use and fast to learn. It is very feature-rich and it allows me to get more from network investigation, as well as giving me visibility to the device without physically touching it.
If you have not downloaded Lansweeper yet, I say give it a try. Visit Lansweeper to get a free trial. And if you have already done that, get full network visibility with Scrutinizer.