A Growing BYOD Market
Global Market Insights predicts the BYOD market will exceed $350 billion by 2022. This means the number and diversity of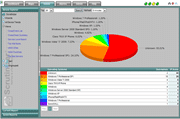 connected devices on your network will continue to rapidly grow. It also means that visibility and control of these devices will become more challenging than ever.
Do You Want More BYOD Control?
A good BYOD security solution should deliver reporting that enables IT to track who is using what BYOD device and how many of each type of device is on the network.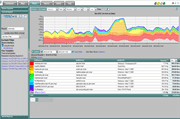 Five key questions to ask when evaluating BYOD monitoring solutions:
Do I need to deploy and manage software agents on devices?
How can I reduce security risk of devices I don't control?
How can I visualize and differentiate BYOD device traffic from company-owned devices?
Am I able to track BYOD application usage and bandwidth consumption?
How do I hold BYOD users accountable for their behavior?
Since Scrutinizer monitors BYOD traffic as it traverses the network, there are no agents to deploy. Usernames and applications can be associated with all network traffic, providing bandwidth consumption metrics and user accountability. Security analytics identify anomalous behavior in BYOD traffic, reducing risk.
line-break
Monitoring BYOD devices with NetFlow
Monitoring BYOD with NetFlow is becoming a huge concern on most networks due to the added network load as well as the new security risks that the devices may pose. This blog sheds some light on some of the new features that Cisco has recently come out with to help track behavior on the network.
Monitor BYOD Traffic: NetFlow Reporting
Most companies are taking the position that BYOD is allowing businesses to gain more productivity from their workforce. Because of this, mobile workers are on the rise and it is creating a new IT challenge.
Meeting the Demands of BYOD While Maintaining Security
The workplace is full of personal electronic devices – all of which have internet connectivity built right in. Workers expect more freedom and like it or not, the current trend is to give it to them. The business benefits by saving money and employees are happy to keep the device they know, which increases productivity. IT, however, is tasked with balancing the freedom of BYOD with the increased security risks it brings.