Möglingen, 12.02.2019 – TechniData TCC Products GmbH and Plixer, LLC have formed a partnership. With this cooperation, Möglinger's IT service provider expands its network portfolio with the Plixer solutions for network analysis and performance management.
Plixer, based in Kennebunk, Maine, USA, provides solutions for network traffic analysis. Scrutinizer®, Plixer's network and security intelligence platform, analyzes network flows and metadata from the edge all the way to the cloud using NetFlow, sflow, J-Flow, IPFIX, JSON, and other technologies. The system delivers the findings clearly with fast reporting and easy-to-understand graphical representations. Network and security officers will be able to respond quickly and efficiently to incidents that impact network performance and business risk. With the help of the evaluated data, they also have the opportunity to identify potential problems in advance and to implement proactive traffic management for the early avoidance of performance bottlenecks.
"Network and performance management are currently a hot topic of innovation for our customers. Thanks to the cooperation with Plixer, we can now offer sophisticated solutions for analyzing all network data," says Volker Jakob, Managing Director of TechniData TCC Products.
"Plixer has thousands of existing customers worldwide using Scrutinizer," said Bob Noel, VP of Strategic Partnerships and Marketing. "We are excited to be partnering with and supporting Technidata. They bring years of experience in information technology, and have a passion for helping their customers choose and implement the best technology to meet their needs."
TCC Products sells the Plixer solutions in Germany, Austria, and Switzerland. The services of the IT service provider include consulting, design, and selection of Plixer solutions as well as configuration and testing. Details under www.technidata-tcc.de
About TechniData TCC Products GmbH
TechniData TCC Products GmbH is an IT service provider for complex and future-proof IT infrastructures. Core topics are Private Cloud and Hosting Services, Network Management and Optimization as well as IT Security and SAP Services. Customers' applications and systems are operated in their own data center at the company headquarters in Möglingen near Ludwigsburg. Further locations are in Karlsruhe and Mannheim. TechniData TCC Products is a member of the TechniData Group.
About Plixer
Plixer provides a network and security intelligence platform that supports fast and efficient incident response. The solution allows you to gain visibility into cloud applications, security events, and network traffic. It delivers actionable data to guide you from the detection of network and security events all the way to root-cause analysis and mitigation. Network and security incidents are inevitable. When they occur, Plixer is there to help you quickly return to normal and minimize business disruption. Thousands of organizations rely on Plixer solutions to keep their IT infrastructure running efficiently. Learn more at plixer.com, stay connected with the Plixer blog, and follow us @Plixer.
First Name* Last Name* Email* Company* Phone* Machine ID* (How to get Machine ID)
Read More »
Request a license key Please use the buttons on this page to download the Plixer Replicator virtual deployment option best for your environment.    
Read More »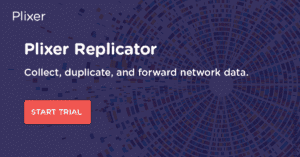 Replicate and foward UDP data streams to increase data analysis and management. Evaluate Plixer Replicator for 30 days Maximize the value of your existing network
Read More »