Products
Plixer Security Intelligence
Plixer Security Intelligence consumes and analyzes streamed metadata from Plixer Scrutinizer to aid resource-strained SecOps teams, dynamically scouring massive volumes of machine-generated data and automating the detection and remediation of advanced persistent threats.
Plixer Security Intelligence embeds the very latest in machine learning/artificial intelligence (ML/AI) technology and applies a crisp use-case-driven implementation that delivers real, trustworthy results in milliseconds.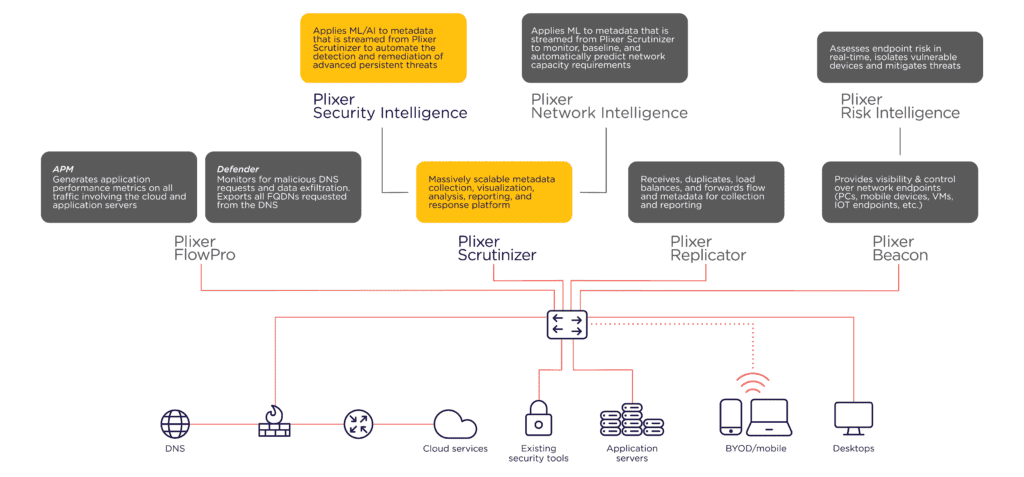 Plixer benefits
Staff augmentation

By combing through massive datasets with ML to see patterns that humans can't and applying additional AI logic to dynamically eliminate alarms that can be explained, Plixer Security Intelligence provides relief to under-resourced security teams. These advanced capabilities elevate true vs false positives and provide the contextual information needed to resolve the problem quickly.

Advanced threat detection

Plixer Security Intelligence has been built with the very latest in machine learning data science, including two-phase ML/AI detection that delivers leading alarm fidelity. The solution processes billions of network conversations, produces results milliseconds, prioritizes events by severity, and learns the environment quickly.

Any threat intelligence feeds

In addition to STIX/TAXII support, Plixer Security Intelligence delivers highly scalable, modular, and extensible threat intelligence capabilities. Multiple stream feeds can be supported simultaneously, components within the feeds can be paused or turned off/on, and new intelligence feeds can be imported and evaluated against existing intelligence data.

Streamline workflow automation

By providing bi-directional integration with ServiceNow, SecOps can streamline the process of trouble ticket creation. In addition, SecOps can share the "collected" network and end-device-related data that is associated with any incident. This provides context into why the ticket was opened and eliminates the need to duplicate investigative effort.
Want to see Plixer Security Intelligence in action? Book a demo with one of our expert engineers.
Book a Demo