Products
Plixer Network Intelligence
Plixer Network Intelligence, powered by advanced machine learning (ML), streamlines workflows, augments staff, automates capacity planning, and dynamically shares investigative data.
Plixer Network Intelligence harnesses the power of ML to deliver unique features, value propositions, and staff augmentation capabilities for network operations teams. Network teams can precisely predict future network capacity requirements to get in front of the capacity planning and optimization curve. Plixer provides the NetOps teams with the data and insight needed to ensure positive and safe user experiences.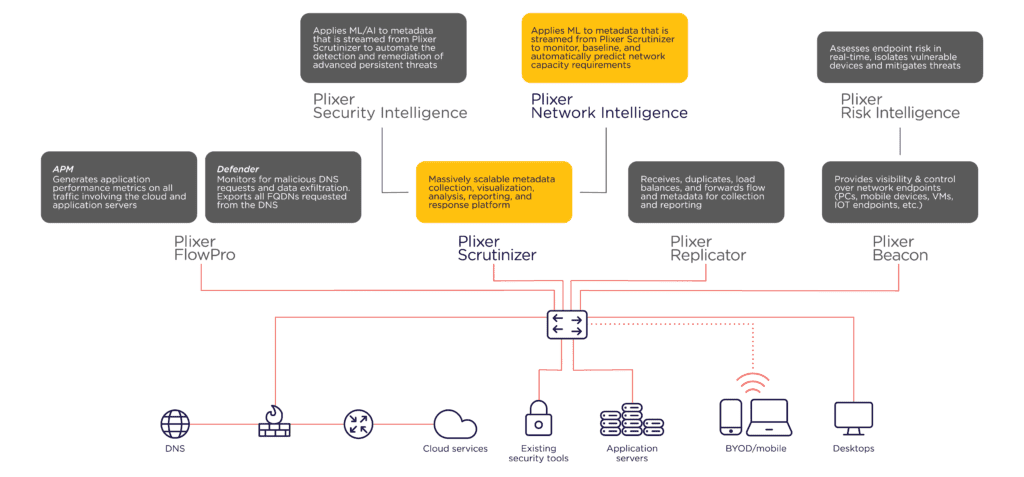 Plixer benefits
Predictive capacity planning

By applying ML to the metadata coming from every network conversation to proactively analyze and trend capacity utilization, Plixer Network Intelligence provides advance notice of capacity requirements and delivers the empirical data needed to obtain C-Level approvals long before users and customers are negatively affected.

Investigative data sharing

NetOps and SecOps collaboration is enhanced with the capacity to collect and share investigative data. As network analysts navigate Plixer Scrutinizer's user interface during an investigation, they can use the collections feature to keep track of where they went and what data they collected and share that collection data with a colleague.

Gain intelligence with data streaming

Real time data streaming, via Kafka, enables organization to export and correlate network-related data into their data lakes for better business intelligence. Network teams can configure what data is streamed, and how it is aggregated, to ensure that data scientists can have access to the data they want and extract value.

ServiceNow integration

By providing bi-directional integration with ServiceNow, NetOps can streamline the process of trouble ticket creation. In addition, NetOps can share the "collected" network and end-device-related data that is associated with any incident. This provides context into why the ticket was opened and eliminates the need to duplicate investigative effort.
Want to see Plixer Network Intelligence in action? Book a demo with one of our expert engineers.
Book a Demo