Discover all the devices on your network to assess security and performance risk.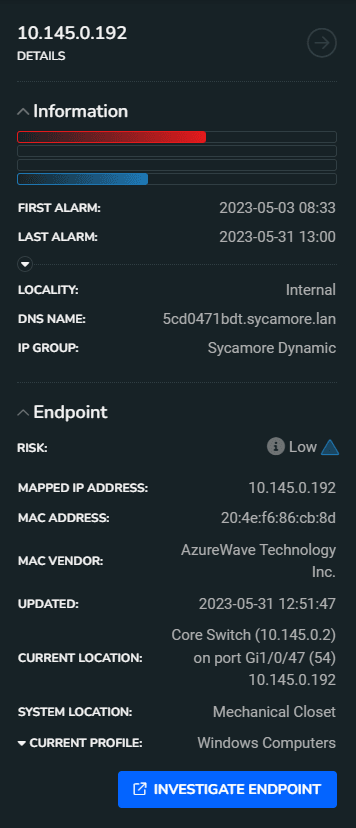 Endpoint Analytics gives IT, network, and security operations teams deep visibility and tight control over network endpoints (PCs, mobile devices, VMs, IoT endpoints, etc.). Gain real-time insights into device identity, location, and behavioral data, as well as the ability to identify and support threat response. This helps organizations track assets, strengthen security and compliance, and mitigate risk.
Endpoint Analytics allows you to:
Automated device discovery, onboarding, and risk assessment
Gain real-time visibility into device identity, location, and behavioral information
Ensure high scalability and availability of endpoints
Authenticate devices, segment networks, and institute granular network access controls
Improve compliance with data privacy regulations
Correlate endpoint events with network and security incidents
Critical endpoint context
Resolve issues faster with endpoint visibility
IT security & performance made easy
Easy and flexible deployments for on-prem, cloud, or hybrid environments.
Leverage your existing infrastructure to gain critical intelligence upon deployment. 
Expand your IT environment and digital growth without fear of visibility gaps.  
Build a best of breed security framework through integrations with your existing tools. 
The devices on your network are the most vulnerable to compromise. Despite this being a known issue, many organizations continue to struggle to find the right tools and controls to keep endpoints secure. 
Learn how to use your network to secure your endpoints and uproot threats before damage occurs. 
Enriching network flow data with endpoint, application, and user intelligence allows you to see your entire IT infrastructure. Advanced AI/ML gives you the context necessary to spot and stop problems fast.
Learn how you an detect sophisticated threats, whether it's malware, ransomware, insider threats, and more.