Products
Plixer Beacon
Plixer Beacon provides deep visibility and tight control over network endpoints (PCs, mobile devices, VMs, IoT endpoints, etc.), helping you efficiently track assets, strengthen security and compliance, and mitigate risk.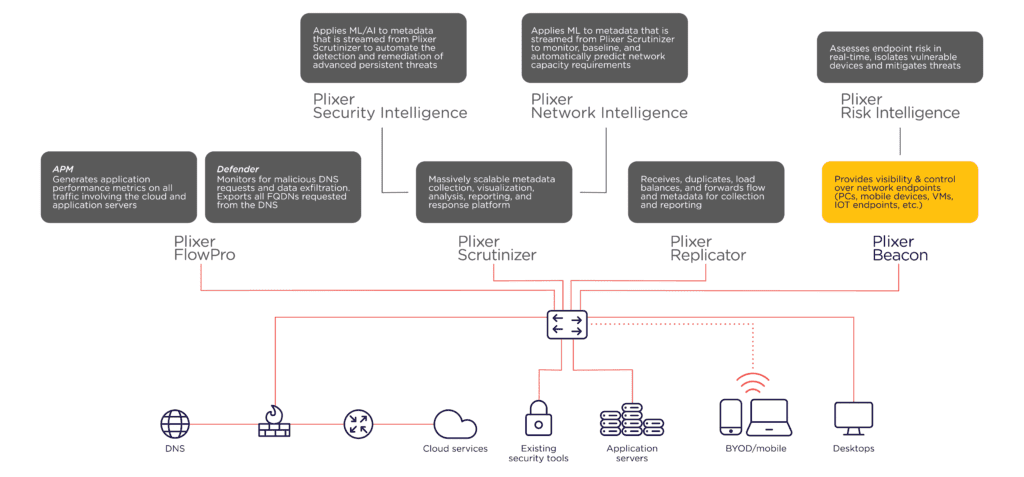 With Plixer Beacon, you can gain real-time insights into device identity, location, and behavioral data; simplify operations; and automatically identify and remediate threats. Single pane-of-glass management streamlines administration. And a distributed architecture provides cost-effective scalability and high availability.
IT operations team benefits
Improve asset monitoring and inventory management

Efficiently track assets scattered across your entire distributed enterprise. Gather a complete and accurate view of all network endpoints, including managed and unmanaged devices, and authorized and unauthorized devices. Understand what types of devices are connected to your network, where they are located, and how they behave—in real-time. Validate enterprise software license agreements against actual device or use counts to avoid overpaying. Ensure contract compliance and audit readiness.

Streamline operations and boost insights

Reduce manually intensive and time-consuming processes, and free up staff to focus on core business tasks. Automatically discover and onboard devices. Easily categorize endpoints using thousands of predefined device profiles. Collect and analyze contextual data from a wide variety of sources (DNS, DHCP, SNMP polling, SNMP traps, NetFlow/J-Flow/sFlow, Active Directory, RADIUS Accounting, port mirroring etc.)

Ensure high availability and scalability

Take advantage of a distributed architecture that provides incremental and cost-effective scalability. The agentless implementation gathers rich endpoint data without impacting device performance or impairing end-user experiences. Redundant configurations protect against equipment failures or disasters. Physical and virtualized appliances satisfy diverse budgets and sizing requirements.

Protect and extend previous investments

Incorporate Plixer Beacon into existing helpdesk workflows with ServiceNow integration. Use open APIs to integrate with other internally developed or off-the-shelf applications. Forward events to external management platforms like SIEM solutions for enterprise-wide monitoring.
Security and network operations team benefits
Reduce exposure and mitigate risk

Proactively identify and remediate rogue devices. Intelligently detect anomalous events and suspicious behavior and take automatic corrective actions like quarantining devices, re-authenticating endpoints, or blocking ports.

Strengthen security posture and reduce attack surfaces

Automatically authenticate devices, segment networks, and institute fine-grained network access controls to reduce security vulnerabilities. Deploy independently or in conjunction with legacy 802.1X NAC solutions. Intelligently assess and quantify endpoint risks with the optional Plixer Risk Intelligence add-on product.

Safeguard data privacy and improve compliance

Improve compliance with data privacy regulations like GDPR, HIPAA, and PCI. Avoid regulatory fines and legal exposure. Plixer Beacon does not capture or store personally identifiable information.

Maximize insights with additional Plixer products

Extend monitoring and alerting with Plixer Scrutinizer integration. Isolate and resolve issues by correlating endpoint events with network and security incidents. Gain additional AI/ML-based insights with Plixer Network Intelligence and Plixer Security Intelligence integrations.