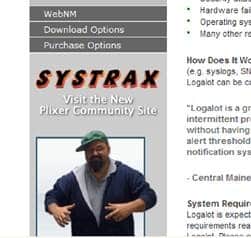 I have had quite a few people ask 'who that guy is on the IM link of plixer.com and systax.com?'  I thought that I pass the info along to our readers.
My name is Jim D (jimmyd) and I am one of the Pre-Sales support reps here at Plixer. The green hat is a Cisco hat that we picked up from one the trade shows. How we got the pose is a cute story.
One day I was getting coffee and Mike wanted to talk to me about a customer that I had been working with. Trying to be funny, I quickly  dawned the cap and replied "Let's rap."  I also added a few "Yo Yo Yo" 's to the mix to make it feel authentic.  Mike first looked puzzled but soon thought that it was a great idea for picture and asked me to do it again.  The rest was history.
So that is my 15 minutes of fame. I got my pic on the website and have had quite a few chuckles with customers. I guess  it's a cool way to bring a bit of reality to the web.