We've arrived at the final part of this blog series outlining some of the great Cisco NetFlow analysis improvements that will be found in Scrutinizer 7.0. With features like the ones we're putting out in this new version, Scrutinizer is easily one of the best values in the flow-analysis market. Let's continue outlining some more features of Scrutinizer 7.
ToS and DSCP reporting
Scrutinizer's ToS and DSCP reporting abilities have been made better in the new Scrutinizer by increasing visibility into DSCP ToS Mapping.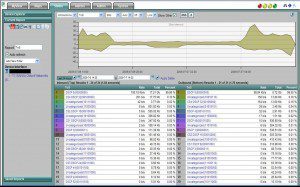 Network administrators are able to see exactly how traffic is being processed with respect to Cisco QoS implementations, by displaying both inbound and outbound network traffic in one graph.
When it comes to Cisco NetFlow monitoring, more visibility without sacrificing speed is the goal. Scrutinizer delivers with this in version 7.
Create custom reports on-the-fly from any report
A key to network resolution is troubleshooting speed. Creating and saving the reports you need quickly is critical. Sometimes you don't know exactly what we're looking for when you're troubleshooting, but you can certainly identify a problem when you see it. Scrutinizer gives you the ability to drill in to your traffic using a variety of different filters to find exactly what you're looking for.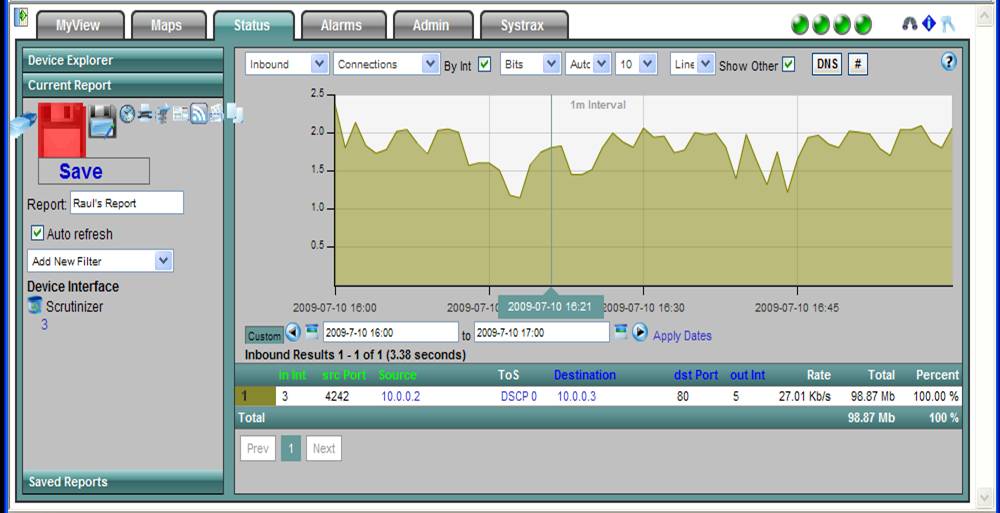 Once you find what you're looking for, you can instantly save that report on-the-fly and quickly recall the report parameters at a later time with just a few mouse clicks.
Copy reports, rename them, group them, set permissions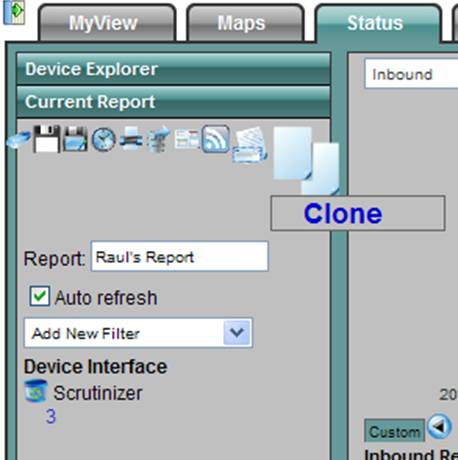 Once you have your saved report, you're most likely going to want to make small changes to look for other problems.  Scrutinizer's enhanced NetFlow and sFlow reporting allows you to make a copy of your report to edit, leaving the original report intact. Report grouping has been improved for navigation with added support for user-based permissions on reports.
Set thresholds for alarming on any report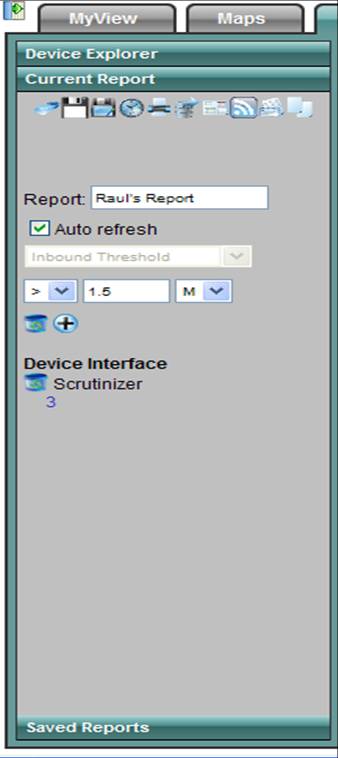 Quite often, network congestion is a symptom and not the root cause of network problems. Wouldn't it be nice if you could also save custom utilization thresholds for any saved report? Yes it would. In addition to having the ability to save a custom report on-the-fly, you can add thresholds so that if the problem you just found happens again, you'll be notified. Values can be specified in bits, megabits, or gigabits – whichever you prefer.
Saves all flows from all routers – forever
Complete NetFlow reporting is at your fingertips with Scrutinizer. From the biggest conversations to the smallest conversations, you'll have them all.
Check out our other blogs about the new features in Scrutinizer. If you haven't read them all, select from the list below; they are all definitely worth reading.
Nate got us started with the first blog:
What's new in Scrutinizer v7 Cisco NetFlow Analyzer – Part 1
Features:
Encryption exclusions

All flows, all the time

Collector Improvements

Group Permissions for users

Proxy Server configuration
Jon posted the second blog:
What's new in Scrutinizer v7 Cisco NetFlow Analyzer – Part 2
Features:
Overriding report interval when no data is available

Connections for Google Maps

Host and application quick search

Customizable log in environment

Alarm category filters
Joanne followed up with:
What's new in Scrutinizer v7 Cisco NetFlow Analyzer – Part 3
Features:
Applications defined by combination of ports and IP addresses

All reports can be emailed on demand or scheduled for regular time intervals
Stacked trend graphs available on all reports

LDAP and Active Directory support

Extensive flexibility for VoIP reports
Tom stepped up to the plate with:
What's new in Scrutinizer v7 Cisco NetFlow Analyzer – Part 4
Features:
CSV and RSS output of all reports
DNS resolution
Subnet to subnet reporting
biDirectional reporting
Current Reports  – reporting engine
Our developers have done a great job putting in some long hours to make sure this release is a home run. We've had a lot of great feedback from our customers who have helped us by sending in some great ideas and we thank you. Lots of progress has been made and it looks like we'll be releasing pretty soon. Keep checking in for more information on the upcoming release of Scrutinizer 7!