Continuing with our weekly blog series on the upcoming Scrutinizer version 7, Nathan started with encryption exclusions, more flows, collector improvements, group permissions for users, and proxy server configuration. Then Jon continued last week with overriding report intervals, Google Map connections, host and application quick search, user profiles, and alarm category filters.
I now present for your reading enjoyment five more great and wonderful new features that this major upgrade offers.

1. Applications defined by combination of ports and IP addresses
The highlight of this feature is that it allows applications to share ports. Application groups can be configured for combinations of IPv4 addresses and ports; either individual, ranges, or all. For example, you can now configure multiple web applications for port 80, and track specific web page activity.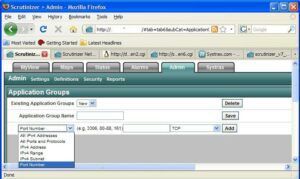 2. All reports can be emailed on demand or scheduled for regular time intervals
This includes both the Status and Alarms tabs. While viewing a saved report from the Status tab, a series of icons are available to select from, which include both Schedule and Email. This allows you to create a report that's exactly to your specifications. You can choose to have the report emailed to you immediately by clicking Email, or by clicking Schedule you can schedule the report to arrive on a daily, weekly, or monthly basis.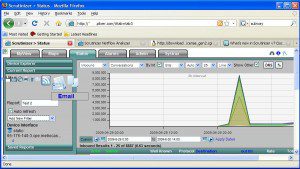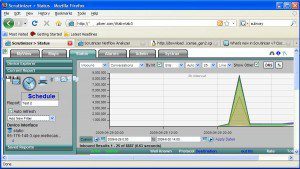 These email options are also available in the Alarms view. The icons in the Alarms tab are located in the top right of the screen, including (from left to right) Email, Schedule, RSS Feed, CSV export, and Help.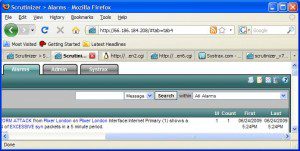 3. Stacked trend graphs available on all reports
Also supported are pie charts and bar charts. Switching from trend to pie to bar charts is as simple as selecting from a drop-down list above the report. The default Graph Type is Line upon installation, but is configurable at the user level.
4. LDAP and Active Directory support
Scrutinizer now offers LDAP and Active Directory support, allowing customers to use their existing centralized login credentials. Configuration is quick and easy with just a few simple entries to configure, and a utility for testing your configured settings.
5. Extensive flexibility for VoIP reports
When setting traffic priority using Cisco CBQoS, Scrutinizer v7 can display before and after DSCP values if Egress flows are turned on. This view allows network administrators to confirm that ToS policy changes to the router are working correctly. This is very important when trying to prioritize voice and video traffic on the network.
* * * * * * * * * * * * * * * * * * * * * * * * * * *
These are just a few of the feature requests that we have received from our customers and which we have implemented. If you have any feature requests, please do not hesitate to submit them. As you can see, we do listen, and we do make every effort to meet our customer needs.
Please stay tuned next week for Tom's blog on more features available in version 7.