We have developed a Call Tracking system to monitor and report statistics of our Sales and Technical Support phone activity on our Asterisk PBX system.
This call tracking system was originally created by Marcus Del Greco, a former employee of Plixer International, and has since been upgraded and maintained by me.
The result is our in-house tool plumTrack, which provides call statistics including total number of calls per person, total time on the phone (both incoming and outgoing), and also broken out by internal (company extension) calls and external calls. This is tailored very specifically to our needs, as this tool is used to base our monthly bonuses on. Management uses this tool to track how many calls to customers and how long, in minutes, we were on the phone.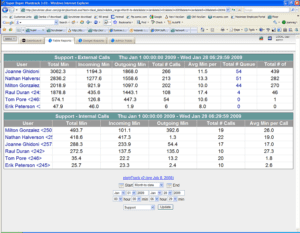 Also included in plumTrack is a link to our Customer Relationship Management application – Maximizer Enterprise – to pull the number of notes added by each employee, another means of tracking their productivity.
The plumTrack tool has two web interfaces, the full table-based report, and the Scrutinizer gadget interface. The full report displays all the data required to determine if we met our monthly bonus criteria, and the Scrutinizer gadget is displayed on each of our 42" monitors. One displays the Technical Support statistics, and the other displays the Sales department's statistics. The gadget in Scrutinizer's My View screen which is visible to all in the department, provides a real-time view of our current daily phone and CRM statistics, and provides an opportunity for a little healthy competition amongst ourselves.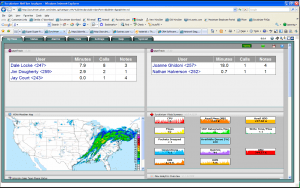 Occasional code changes are required when the Asterisk database is upgraded and there are database table format or content changes. plumTrack is written in Perl, using MySQL for the Asterisk CDR database and MS-SQL for the Maximizer database.
As management's objectives change, requests are made to add new information to the reports or display in a different format. One future consideration for plumTrack is to develop a management reporting tool to reduce the need for adhoc updates to the application.
In the vast world of software applications, plumTrack is just a drop in the bucket, and at this time, it is solely used in-house by us. But it is geared directly to our needs, and can be updated on a moment's notice. That's a big benefit to us in having something so easily customizable. It may be a small dog in a big dog's world, but the folks here love it!