For those of you that missed Plixer's recent series of webinars, aimed at getting the most out of NetFlow using their latest and greatest NetFlow and sFlow analyzer, there is still hope. A recording of the webinar has been made available online for your viewing pleasure. Just click the image below to watch this 40 minute presentation.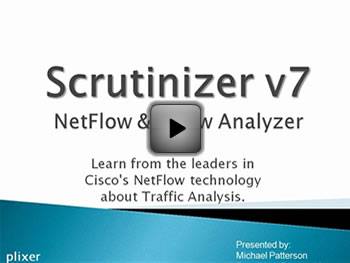 Michael Patterson, Scrutinizer Product Manager, covered a range of topics in this traffic monitoring centric presentation.
Some of the main points from the webinar include:
Identifying network threats using NetFlow from the Cisco ASA Firewall.
Point-to-point conversation searching – How to get details on specific hosts and applications.
Getting NetFlow from Layer 2 devices (e.g. Cisco Catalyst 2900, 3500, etc.).
How does using Scrutinizer and NetFlow reduce your time to resolution on network issues?
How to search and filter through detailed traffic information to get the details you need to solve the problem.
How to save reports for future reference.
Attendees of the webinar series learned about all of the above, as well as how using NetFlow probes, such as nProbe, can be a cost effect solution where NetFlow capable hardware is not present.
While this short series of webinars may be over, feel free to pass this link around to colleagues, friends, family members, ex-boyfriends and girlfriends, mortal enemies, whoever you think might appreciate the lesson in network management. But do not fear, we have more free training opportunities planned in the near future. Keep your eyes on that inbox.
Also, don't forget to visit us in Las Vegas at Cisco Live! 2010, in just a few short weeks. We'll be at booth #960. See you there NetFlow fans!