Looks like Vyatta has joined the mix of vendors supporting NetFlow and sFlow. According to the Vyatta press release, it requires an upgrade to VC6 of their operating system which is still in alpha development. This will make them the first company I'm familiar with that supports both technologies on the same hardware. Typically vendors implement sFlow in hardware, but Vyatta did it in software as they did NetFlow v5 and v9 support.

Here are the commands to enable NetFlow taken from page 5 of the Vyatta documentation. The documentation also lists numerous 'show' commands.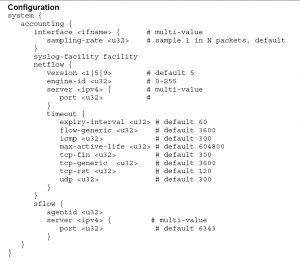 Way to go Vyatta! Soon we will have listed their hardware on our Configure NetFlow page.