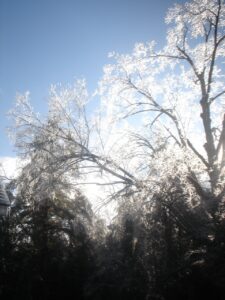 We had an interesting weekend in Maine. The first ice storm of the season seemed to be a bit problematic for all of us, but it could not stop the Plixer Christmas adventure. The ice knocked out power to our office as well as to an estimated 220,000 homes and businesses in Maine. Some of us are still without power. In this mess, there were some amazing sights only an ice storm can create. I was struck by how the trees encapsulated in ice captured the sun light and lit up the trees. Billions of lights flickered in the winter breeze glimmering on a magnitude that no man made string-o-lights could ever produce.
Every year Plixer does something special for its employees during Christmas. Our Plixer Christmas event had been planned for this weekend; Ice storm or not the show still went on. "The Magic of Christmas" was the title of an amazing show that showcased the Portland Symphony Orchestra. The title was fitting as these great musicians played together in unison – truly magical. I couldn't help but draw metaphors on what great things can be accomplished with teamwork, a good listening ear, and timing within our networks.
If one musician would have been out of time or delayed in any way, it might have ruined what could have been a perfect . Why should we expect anything less from our Voice communications? In order to listen, we need the right tools to monitor latency, jitter, MOS, and packet loss.  Cisco already provides us with these tools (Cisco IP SLA), and all we need to do is configure, and trend it.
The IP SLA statistics can be retrieved through SNMP. The Denika SNMP Performance Trender is the perfect tool to deliver the Cisco IP SLA reports. There are IP SLA MRTG templates already built in to Denika that allow users to create hundreds of reports in seconds. The fact that most configurations are already done makes it quick and simple to deploy. Plixer also has a special My View gadget so that you can see your VoIP statistics within Scrutinizer. 3rd Party integration in both Scrutinizer and Denika allow it to play well with other network monitoring tools. With the right tools, it won't take years to have your network sounding like a world class symphony orchestra.