It's not every day that we get to spend time with our colleagues from across the pond. So, when the opportunity presented itself to exhibit at the Cisco Live World of Solutions this year in London, we jumped at it. Not only would we get to interact with customers and prospects in a more international setting, but we would be able to see what other vendors are accomplishing with Cisco inspired technologies, like NetFlow.
While we pride ourselves on providing best in NetFlow solutions and being on the cutting edge of flow-based traffic monitoring, there is no doubt that every Cisco Live event provides its own eye opening and informative experience. So, needless to say, the decision to exhibit at the show was practically made for us.
Another fantastic opportunity provided us by this trip to the United Kingdom was a chance to visit with our good friends and partners at Teneo. Teneo has been a large part of Plixer's presence in Europe for a few years now, therefore, it just made sense to have some representatives of the Teneo team support our cause on the show floor at booth E9.
Here is Plixer's very own International Sales Manager and resident Scrutinizer Samurai, Jimmy D, with Seth Cornwall from Teneo.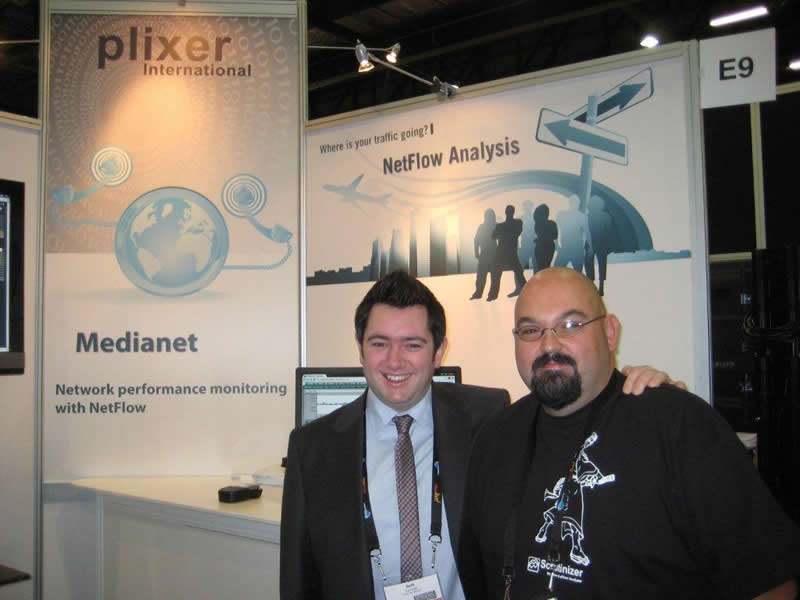 We have had someone from Teneo at the booth each day of the show helping with demonstrations and answering questions. If you are a Scrutinizer user, Teneo customer or if you're just interested in the latest and greatest in NetFlow and IPFIX reporting, feel free to swing by and take a look at the newly released Scrutinizer version 8.5.
See you there!