Yet again, it's raining here in Maine. I think it has been raining for four days straight and now I'm beginning to get a little antsy to see some sunshine.
Usually, I don't watch the Weather Channel. I just take every day as it comes and adapt to the weather. If I wake up and it's rainy and cold, I wear something warmer. If it's bright and sunny, I wear a t-shirt.
I'm simple that way.
But when we have a run in weather like this, I ask myself: "When is this going to end?!?"
That's when I break out of my normal habit and check the forecast for the next couple days. I must admit, there is a sense of peace knowing that the rain SHOULD end by tomorrow night.
Much like monitoring the weather, you can use SNMP to monitor your daily, weekly or even monthly traffic statistics to help you project what tomorrow may bring.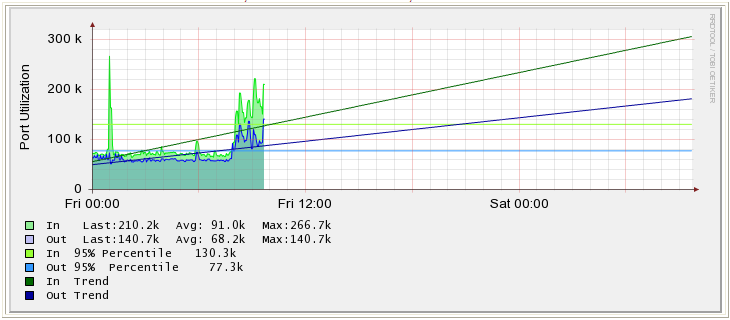 Notice the Port Utilization graph shown above: Not only does it provide statistics based on current data collected, it also estimates future projections based on your current trend using those strike lines.
With limiting budgets, it's more difficult to rationalize spending on a new DS3 circuit for the company. However, network performance monitoring applications, such as Denika, make life easy by forecasting network growth, so that you can see a problem before it ever begins.
Think about this: Would you feel better knowing that tomorrow was always going to be a bright and sunny day?