EDIT: This blog post is now out of date as we've officially released a Spiceworks NetFlow plugin.  Check out the Spiceworks NetFlow Integration Plugin blog for more details.
Greetings Spiceworks IT managers! Did you know you can integrate our Scrutinizer NetFlow and sFlow analysis tool into your Spiceworks IT management desktop?

The Spiceworks and Scrutinizer integration allows for Scrutinizer's functionality to be built right into your Spiceworks dashboard with widgets. Scrutinizer has been built so that all of the reports and features are accessible directly via URL, which makes the integration with Spiceworks easy. The following is a Scrutinizer Top Interfaces widget which, when clicked on, will launch Scrutinizer reports right from your dashboard.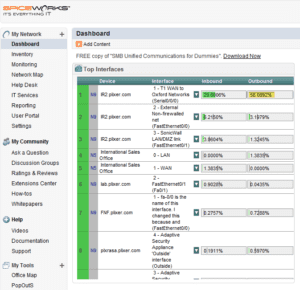 I also created a widget for the Scrutinizer search utility, so you can run reports on the hosts you're interested in directly from Spiceworks.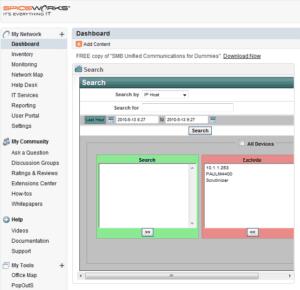 Since the widgets are fairly small, you can also insert 'Tools' into Spiceworks which allow for a much larger view. This is a good place for your favorite Scrutinizer map.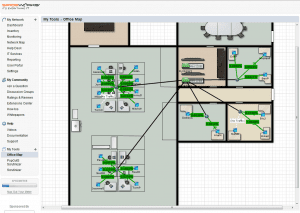 If you're interested in creating your own widget take a look at Joanne's blog that details How to Integrate Network Management Applications with Scrutinizer.
We've been tossing around the idea of making an official Scrutinizer NetFlow and sFlow plugin for Spiceworks, but we would like some input from both Scrutinizer and Spiceworks users to see if this is something you're looking for, and if it is, what type of widget would be the most useful to you? Please send me (pauld @ plixer dot com) an email if you're interested. Currently, and this is important so you don't find yourself bashing your head against a wall, the widgets can only be accessed from the local machine that Spiceworks is installed on. This is because they are not official Spiceworks plugins and Spiceworks, much like the Apple store, regulates what plugins are publicly available. This is why we need your input! You can find the Scrutinizer and Spiceworks integration instructions here.