Plixer recently teamed up Mix Master Mitch and Hip-Hop sensation Jeffrey Ramsey "Flow Master.Pcap" to produce their latest music video about SonicWALL IPFIX and NetFlow Exports.  MMM passes the torch in his usual epic fashion. Check it out!
If you want to learn more about Jeffrey Ramsey, also known as Ya Fav Homie JR, visit his website or follow @YaFavHomieJR on Twitter.  However, any true NetFlow analysis aficionado should first be familiar with  the work of long-time NetFlow rap contributor Mix Master Mitch, which can be found on the NetFlow Rap fan page.  Most videos were produced by Real Media Solutions.
Some of Jeff's latest work includes Flip Shades and Nike.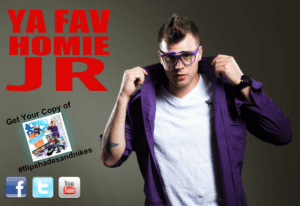 We caught up with Mix Master Mitch and asked him how he felt about Jeffrey Ramsey taking the leading role in this latest NetFlow video.
"Yo, when Plixer said they wanted to follow up the NetFlow Rap Trilogy with another rap video and that they wanted me to be involved, I was mad excited! SonicWALL was great to work with, and passing the torch to Jeff was definitely tight – for realz!"
What do you think of the latest SonicWALL Scrutinizer video?