We have 5 remote sites all using VoIP to access the company Asterisk PBX.  We monitor the health (e.g. Jitter, Packet loss, etc.) of their VoIP connections by reporting on the Cisco Performance Monitoring Flexible NetFlow exports.  We really appreciate the insight that this new Cisco Medianet technology provides.
We also have a SonicWALL 3500 which exports IPFIX with extensions.  The exports our IPFIX collector receives from the SonicWALL also allow us to report on VoIP quality.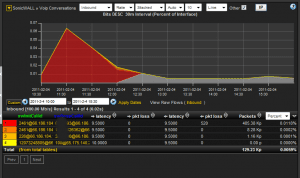 Notice in the above screen capture, you can report on the IP address, caller ID, packet loss and latency.  With this added data, we can now use both Cisco Performance Monitoring for and Sonicwall to report on our medianet. NOTE: The nBox NetFlow probe exports similar information and includes Codec information. Hopefully the sFlow collectors will receive something similar in a future release.
The SonicWALL IPFIX support is not limited to VoIP.  Check out the two videos we posted on the Sonicwall NetFlow / IPFIX support.
Make sure you use NetFlow or IPFIX for VoIP QoS monitoring. SonicWALL did an impressive job implementing IPFIX.