If there was one word I could pick to describe this company, I think I would use the word 'adaptive'.
To give you an example; earlier this summer we hired 2 temps to call our existing customers and find out what features they wanted to see in Scrutinizer.
Maybe it's just me, but I haven't seen many businesses proactively seek out their customer base and ask, "What do YOU want from us?"
After collecting a LOT of feedback and suggestions, development had a vision of what Scrutinizer v7.0 was to become.
Things such as LDAP support, faster performance, expanded custom reporting features and flexible permissions were among the many requests heard over and over again.
Currently, we're still working hard on the alpha build of Scrutinizer v7.0, which is slated for release later this year. However, I did want to show you a sneak preview of one big feature request that we run into all the time…
One of the limitations that we have had with Scrutinizer is being unable to create custom reports around certain subnets. Even with the latest release of Scrutinizer v6.05, we cannot do any custom reporting based on entire Class A or Class B networks. This has made it tough on customers trying to filter on conversations/hosts on those network ranges using custom reports.
After hearing your requests, we have now included this feature in Scrutinizer v7.0. Here's a great screenshot from development that you might like.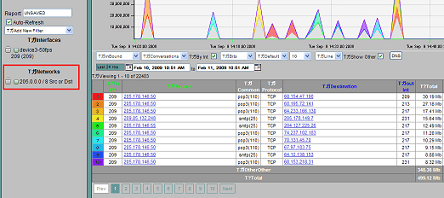 Hey! While you're at it, take notice of some formatting changes that we're making too!