The first question you might ask as a small business admin is "What is NetFlow?" NetFlow was developed by Cisco to provide details about source and destination IP addresses, as well as the protocols and ports used in the conversation. NetFlow tells you who is on your network, what they are saying, when they said it, where they were going and how they did it.
Up until now, NetFlow solutions have been out of reach for most small businesses networks. The cost of hardware and management solutions were too prohibitive for a small business admin's budget. (I might be using the title "Network Admin" loosely, more like Net-Admin, PC-tech, Accounting or "Head of fixing anything that is broken person".)
As your bandwidth costs rise and network usage explodes, the use of your bandwidth becomes a priority. You can use NetFlow to help diagnose what IPs and/or ports are involved when there are network problems. You can also use it to generate usage data for your network. This data can help you make informed decisions as to where you need to allocate your budget and at the same time, eliminate inappropriate usage.
Hardware requirements have always been a stumbling block for smaller networks. DD-WRT, a free Linux firmware for wireless routers has changed the playing field. DD-WRT provides a free firmware upgrade that allows your lower end router to have some of the same features of the higher priced models on the market.
Configuration is simple. Log into your router and follow these steps:
Step 1:
NetFlow is referred to as 'RFLOW' in this firmware.
Go to the Administration / Services page.

Step 2:
Scroll down to RFLOW and click Enable. Enter in the IP address of your collector.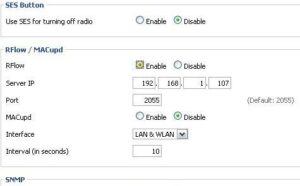 Now you are ready to use any NetFlow management tool to help you determine who is using your bandwidth. An example would be the free version of Scrutinizer Netflow Analyzer or upgrading to the Small Business Two Device license that allows you to store historical information and create custom reports that help you understand that history.
* If you're on Twitter, you can follow your Plixer friends Michael Patterson, Scrutinizer Product Manager,  Tom Pore, Plixer Field Engineer, Marketing Executive, and Network Administrator, and me "Jimmy D", Plixers Lead PreSales Support Engineer and preacher of all things NetFlow.