Move over WebEx, someone is trying to eat your lunch. Skype has entered the desktop sharing market and they are giving it away for free!
Cisco or Google to buy Skype
With Skype being one of the largest players in the voice and video (aka VoIP) market, it is easy to understand why Cisco and Google are both trying to buy the company.
Internally, we use GoToMeeting to share desktops with customers, but we decided to test Skype out and we are fairly impressed. Below is a screen shot of the desktop sharing in Skype.  Notice it is a bit blurry, this could have been our network or my Skype settings.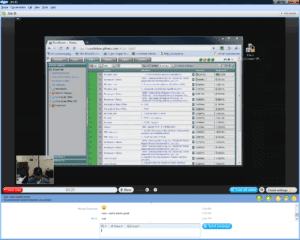 Monitoring Skype with NetFlow NBAR
If you want to monitor Skype traffic using NetFlow you'll need to switch to exporting Flexible NetFlow with NBAR to see the Skype traffic, otherwise the NetFlow collector will pick it up as HTTP. If you are asking yourself  how to configure Flexible NetFlow, we can help. Our NetFlow Analyzer is the best at NetFlow reporting and the leader in NetFlow Analysis.