I got back from SharkFest 2009 last night.  The people and training were awesome.  I learned about TCP windows, Nagel, Stevens graphs, and more … wow.  I definitely learned more about how WireShark can Go Deeper.
Check this out, I got to have lunch and discuss some stuff with Gerald Combs, the founder of WireShark.  I can prove it; here I am having my picture taken with him!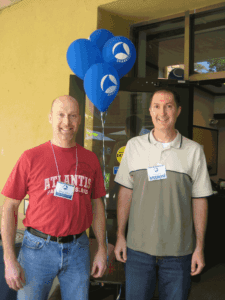 Heh heh.  He is a nice guy and I enjoyed discussing a few Cisco NetFlow & sFlow ideas with him. Anyway, it was a great event.  I'll blog about one of the keynote speakers soon: Dr. Lawrence Roberts (One of the founders of the Internet). Can you believe it, Al Gore had some help. 😉
The last class I attended was taught by Laura Chappell.   She was awesome.
Make sure you take a class with her some time. Very technical, thorough and entertaining.
Well sorry today's post is so short, I have to get back to work. We are all working Saturdays to try and get v7 out the door.