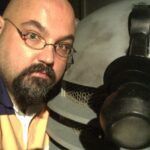 It was my last free day in London and I bumped into one of our favorite Time Lord's worst enemies. Trust me, I would have much rather spent the day having fun, running around London, but this was serious!
With the words "Exterminate, Exterminate" ringing in my ear, I decided that the only way to save the human race was to find The Doctor. London is a big city and a bit foreign to me. I needed to find him and fast. I first stopped at Starbucks. A quick double espresso with an extra shot was what I needed. It could be the end of the world, no time to mess with tea.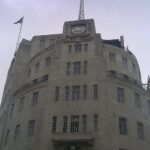 The next stop was the BBC main office. I had worked with the BBC earlier this year. They used Scrutinizer as their sFlow collector. They might know where to find the Doctor. After a quick walk, I found their building. I ran into the door and with a polite but urgent voice I asked "Where is the Doctor?" The nice gentlemen looked at me for a second or two and then said, "My friend, it is a television show. The Doctor isn't real."
I knew that this was a preprogrammed script that he was required to recite as a response to all the fair weather fans of the new Whovian era. I looked him in the eye and said, "I have followed The Doctor since his fourth regeneration. I need to see The Doctor." The kind Indian gentlemen looked at me and whispered,  "He has been seen at the Earl's Court Station." While running out the door I yelled "thank you".
I grabbed a packet of Jelly Babies and went for a quick ride on the tube. Soon I was at Earl's Court Station. I ran up the stairs and there it was. The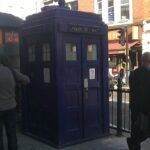 famous blue police call box which is much larger on the inside than it is on the outside. It was the Tardis. I knocked on the door, but there was no reply. I looked around, but he wasn't there. I decided that the best course of action was to leave him a note.  I quickly left my name, a brief message and a number to text me at.
I had tickets to ride "London's Eye" that afternoon. Since the end of the world was on pause I decided that there was no better way to get your mind off of things than a ride on a really big Ferris wheel and have a look at London.
From The Eye you can see just about everything in London. The House of Parliament, Westminster Abbey and Big Ben are in clear view. In the distance I could see a unique arch. I asked one of the other passengers what it was and he replied "Wembly Stadium." I chuckled to myself. The Football Association (FA), who is a co-owner, had chosen Scrutinizer for their NetFlow requirements.  I guess Walt Disney has it right, it is a small world.
All of a sudden, my phone started to vibrate. It was a text from the Doctor. "BBC let me know. All is Safe. Enjoy London -The Doctor"