I've been playing around with Scrutinizer v7 in the lab a lot lately.  I thought I'd leak some of what is to come (see the sneak peek of Scrutinizer v7 we gave on February 20 in this blog post).  Please forgive me for being a bit vague as we need to be careful.  This version is a big rewrite of the front end to take advantage of AJAX and speeding up the interface to be more instant when rendering results.  This list of new features is considerable.  I can't announce everything yet but, I'll leak a few things many of you expect.
Bidirectional Trends
We have expanded a great deal in this version.  InBound / OutBound trends are now available on all reports: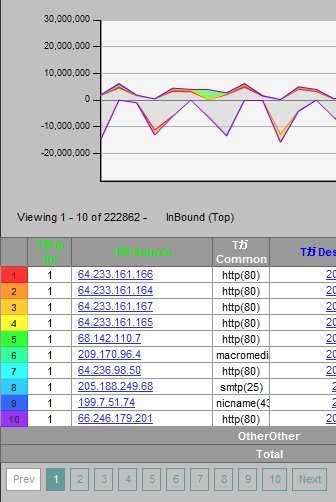 ToS Reports
We have expanded on this to help customers when the tags may have been changed by the router.
Google Maps
I blogged about our improved Google map support here, including saving zoom levels, connections between icons, etc. They are all in v7.
IPv6
We are working on it.  More testing is needed.
Cisco NetFlow v9 Egress Reporting
Wow, can this cause problems for collectors and the statistics the front end renders.  I've very proud of the solution our team came up with.  Customers with mixed v5 and v9 environments will really appreciate the benefits.
Flexible NetFlow
We might have something. Who knows?  🙂
Define Application Groups
You can define application groups using an amalgamation of IPs and port ranges.

Alarming and Flow Analytics
Expect to be able to alarm on just about anything.  How you set this up is key.  It needs to be very intuitive and not crush the collector's performance.  Expect the ability to tweak the engine to your desired needs (i.e. similar to how we do it with Flow Analytics).
Billing for Service Providers
The new architecture will be useful for accurate billing in service provider environments. Our professional services team will kick out exactly what is needed with 100% accuracy on regular intervals into a desired database format.  Improved security and flexibility for service providers is in this version as well.
MyView
Some ideas were taken from iGoogle. We took it to another level with permissions.
Status Tab
More flexibility and I'll blog later on this.
When When When?
Ever wanted something really bad with anticipation just killing you?  It is still to early to give a date, but Scrutinizer v7 is worth the wait.
Thanks for reading.