Scrutinizer v7.2 NetFlow and sFlow Analyzer has been released.  A complete log on the updates is on our web site.  The migration from v6.X to v7.2 is also done. Please contact plixer +1 (207) 324-8805 for assistance on the migration.
We are offering 2 webcasts to cover many of the new features for Network Traffic Analysis.
• A new report 'Flows' available in Flow Analytics
• A new algorithm which is reliable at detecting DDoS attacks with NetFlow
• Improved Cisco ASA reporting with Flexible NetFlow
• Several other features and bug fixes
We will place a heavier emphasis during the webcast on the following: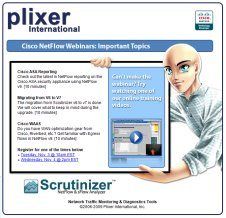 Cisco ASA Reporting
Check out the latest in NetFlow reporting on the Cisco ASA security appliance using NetFlow v9. [10 minutes]
Migrating from V6 to V7
The migration from Scrutinizer v6 to v7 is done. We will cover what to keep in mind during the upgrade. [10 minutes]
Cisco WAAS
Do you have WAN optimization gear from Cisco, Riverbed, etc.? Get familiar with Egress flows in NetFlow v9. [10 minutes]
Register for one of the times below
Tuesday, Nov. 3 at 10am EST (Registration Closed)
Wednesday, Nov. 4 at 2pm EST (Registration Closed)
See the above image advertising the webcast here.  I hope you can make it.