Hello all, today I'm going to tell you about one of my favorite features in Scrutinizer that helps aid in NetFlow traffic monitoring; the MyView dashboard.  The MyView page is a fully customizable dashboard that allows each user to have their own unique view of what's happening on the network which allows administrators to be proactive instead of reactive.
In the MyView page you have what are called Gadgets which allow you to organize your MyView dashboard any way you'd like.This allows each Scrutinizer user to have a starting point when trying to troubleshoot. The following MyView is a snapshot of the network that gives you Top Hosts, Top Interfaces, Top Applications, a map of the office network, Host Volume, and an RSS feed of the Plixer Community Forums.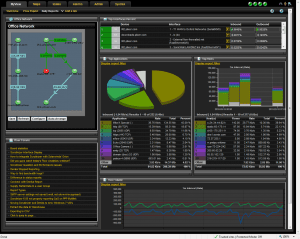 (Click to enlarge)
Each Scrutinizer install comes with a MyView dashboard called "Flow Expert". The Flow Expert dashboard, by default, shows you reports that you can only get with Flow Analytics. In the next screen shot we're getting reports for Top Conversations, Top Flows, Top Countries, Top Well Known Ports, Network Volume and a Threats Overview. These reports are giving us the "Top" across all of our network devices.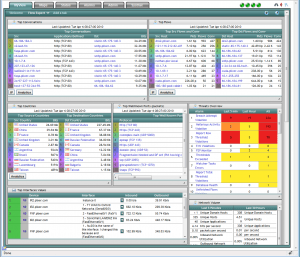 (Click to enlarge)
As you can see, you can also customize your Scrutinizer theme. Now, onto the best part; customizable gadgets.  You can import any Scrutinizer report into your MyView page. This is done by saving a report, then clicking the "MyView" button shown in the image below. You will be asked which MyView dashboard you want to add the gadget in and wa la!
Does your company have web tools that you find yourself visiting a lot? We can add those to your MyView dashboard also! Let's take a look at a my own MyView page which includes our real time call monitoring system, our office webcam, and a weather map. You can even seen Nate at his desk working hard I'm sure.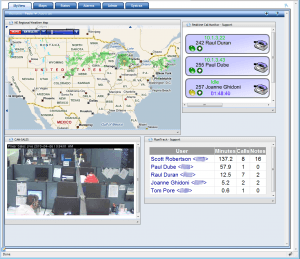 (Click to enlarge)
If you have multiple copies of Scrutinizer, you can configure your MyView dashboard to have a gadget for each server. This allows you to run reports on each server from one centralized interface.
As you can tell, the MyView page is totally customizable so that you can get the information YOU want.  If you'd like any assistance setting up your own MyView dashboard please call our support line as we would be glad to help.