A customer called in the other day after they had set up a map in Scrutinizer NetFlow and sFlow Analyzer.  They had some blank connections to devices that didn't support NetFlow and they were asking if there was anything they could do to make the map more useful for these devices. I asked them if they used our SNMP trender Denika, and they said, "Yes." So, we set up the integration with Denika and Scrutinizer, then started configuring Denika connections on their Scrutinizer Map.
What are Denika Connections?
Denika is our SNMP performance trending tool.  When it's integrated with Scrutinizer it allows SNMP reports to be added as connections on a Scrutinizer map, which typically only shows NetFlow reports. This means that by glancing at a properly set up Scrutinizer map you can see information such as CPU utilization, free disk space, available memory, and port utilization of your servers all in one place. The maps will also update dynamically and the connection will change color based on utilization.
How to Configure Denika Integration
Before you can start using Denika connections you will need to configure the integration in Scrutinizer. This is done by going to the Admin tab -> Settings -> Denika Connections and filling in your Denika server info.

To complete the integration you will need to click on the Admin tab -> Definitions -> 3rd Party Integration and under "Existing Integration" select 'Denika'. Next, replace xxx.xxx.xxx.xxx with the IP address (and port if it's not running on port 80) of your Denika server in the URL field.

This allows you to view the device's SNMP reports in Denika directly from Scrutinizer.
How to Configure Denika Connections
After the integration has been configured it's time to set up some maps. Go to the Maps tab and open an existing flash map or create a new one. In the Connections tab you will need to select the "Connect with Denika Report" check box, then press the 'Filter' button to import all of your Denika reports. Now, choose the objects that you want to connect, select the SNMP report to be displayed, and fill in the thresholds so your links will change color.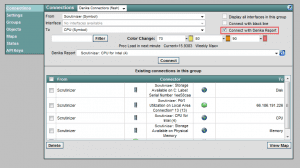 Here is an example of a Scrutinizer map for a Scrutinizer server which uses Denika Connections to show port utilization, CPU usage, free disk space, and available memory.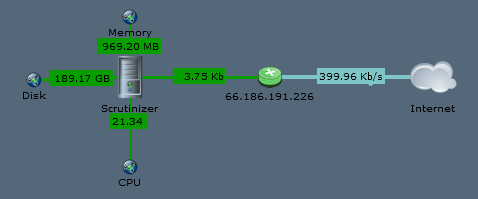 If you want to get fancy, you can import your own background images by saving them to the [homedir]\Scrutinizer\html\images\maps\backgrounds\ directory.  Graphic icons should be saved in the [homedir]\scrutinizer\html\images\maps directory with the naming convention of <name>_object.gif. Make sure the background of the image is transparent or it may not look very good on the map.
Now you have a dynamic map that will change color based on how utilized your resources are, so you can take a proactive approach to monitoring your network.
Enjoy.